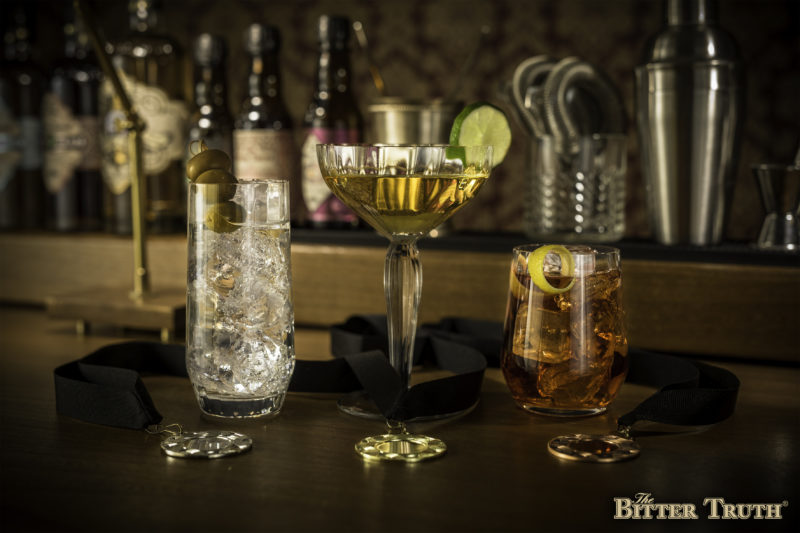 3 Olympic Themed Cocktails
The Winter Olympics have just started. Get all cozy at home and watch alpine skiing, figure skating, or bobsledding—while enjoying one of these three Olympic themed cocktails created by Alexander Hauck and Stephan Berg of The Bitter Truth, which makes aromatic bitters, liqueurs and spirits.
What I love about The Bitter Truth: Hauck and Berg, two bartenders from Munich, Germany, noticed that most bitters they were using to make cocktails were inferior. It gave them the idea to make their own bitters, so they resurrected old recipes and made them by hand. Now their roster of bitters includes some that can't be found anywhere else, which makes it a special company.
Golden Margarita
A winter-weather take on a summer staple with The Bitter Truth Golden Falernum, an exotic flavor profile composed of spicy ginger, citrus fruits, almonds and allspice.
2 oz Reposado Tequila
3/4 oz The Bitter Truth Golden Falernum
2 dashes The Bitter Truth Chocolate Bitters
3/4 oz Lime Juice Cordial (or ¼ oz fresh lime juice and ½ oz simple syrup)
Shake with ice and strain into a cocktail glass.
Silver Highball
The Silver Highball features one of The Bitter Truth's newest products: Olive Bitters. A few dashes added to this highball-style riff on a classic gin martini impart just the right amount of saltiness to the drink.
1 oz The Bitter Truth Pink Gin
3/4 oz Dry Vermouth
2 dashes The Bitter Truth Olive Bitters
fill up with Tonic Water
Pour ingredients into a highball glass filled with ice.
Bronze Old Fashioned
The Bronze Old Fashioned features The Bitter Truth Pimento Dram, an aromatic liqueur brimming with flavors of clove, nutmeg, cinnamon and pepper.
2 oz Bourbon Whiskey
1/3 oz The Bitter Truth Pimento Dram
2 dashes The Bitter Truth Creole Bitters
Pour ingredients into a tumbler filled with ice and stir.
To buy ingredients for these Olympic-themed cocktails, visit The Bitter Truth or your local liquor store.
Enjoy these Olympic themed cocktails with dinner:
One Pan Roasted Chicken with Truffle Mustard