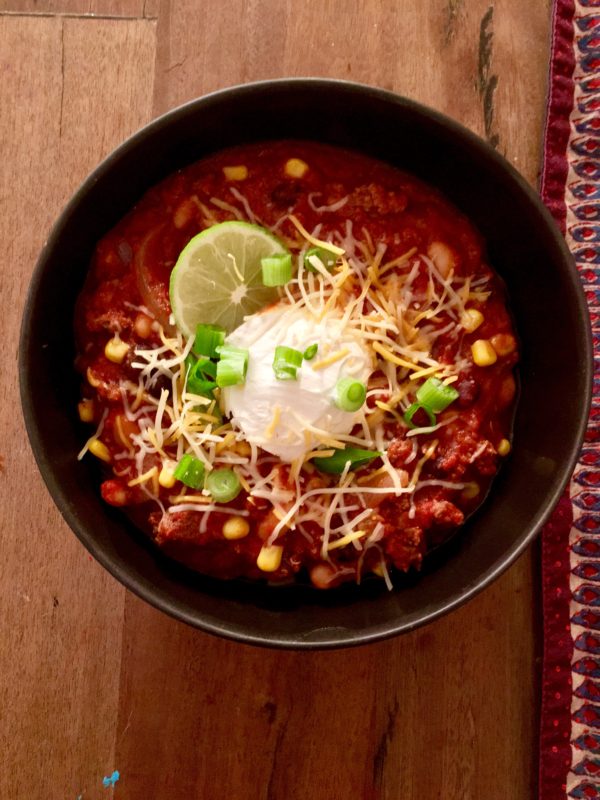 Easy Chili Recipe
The origins of chili are debatable. Is it Mexican? All American? Whatever the case, it's a nice hearty dish to serve as a weekday dinner (make it on Sunday and serve it on Monday) or on the weekend when you feel like having a few friends over. Chili is one of those versatile dishes that can be made in a zillion different ways. Some people don't add beans while other people make it vegetarian. This easy chili recipe uses both beans and meat, and while I don't often use canned vegetables, here it makes sense, unless you want to soak beans the night before, which is perfectly doable. I don't love kidney beans, which tend to be the go-to bean for chili. Instead, I added black and white beans, but you can add whatever you like.
What You'll Need:
Aside from the general ingredients, the spices you use are super important when it comes to chili because you want a mix of smoke, heat, and robustness. Many spice companies make a blend, which I've noted in the recipe, or you can make your own using chili powder, smoked paprika, and oregano. I even added a dash of garlic powder, too, but that's entirely optional.
Tips:
The bacon gives the chili a nice smokey flavor but you don't necessarily have to use it.
Mix and match the toppings according to your taste buds. You could also add some sliced avocado.
Did you know that February 22nd is National Chili Day?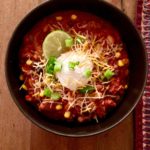 | | |
| --- | --- |
| Servings | Prep Time |
| 6-8 | 10 |
| | |
| --- | --- |
| Servings | Prep Time |
| 6-8 | 10 |
Heat up a large pot over medium-low heat. Add the bacon strips and cook until crisp. Remove the bacon and set aside, crumbling the slices once they've cooled off. Add the onions and peppers, cook until soft, stirring occasionally. Add the beef and break it up with a fork as it browns. After a few minutes, add the spices, salt & pepper, then blend in with the beef. Once the meat is browned, add the tomatoes, beans, and corn. Add the zest and lime juice. Cover and simmer for about an hour and half, stirring occasionally. Serve in individual bowls then top with crumbled bacon pieces, a dollop of sour cream, grated cheese and scallions, as desired.