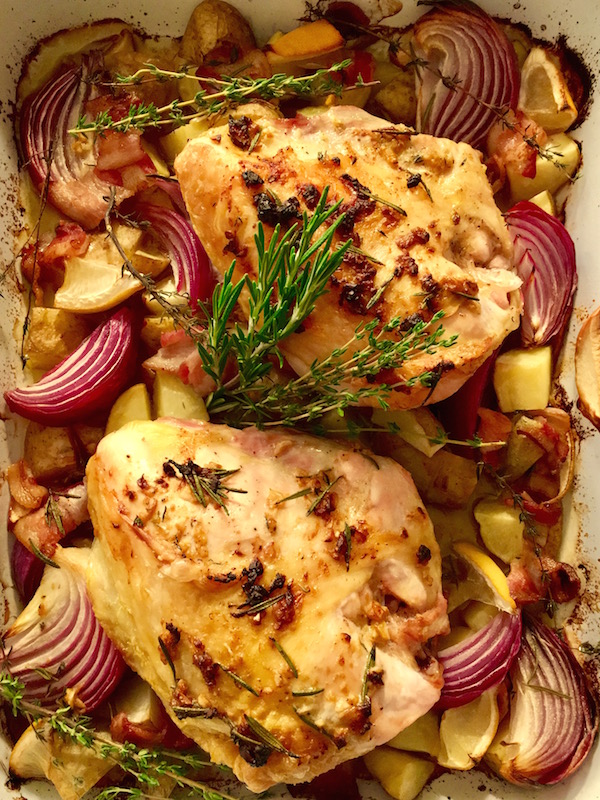 Roasted chicken, with its crispy skin and juicy meat, makes for an easy-yet-elegant weeknight dinner, and in this case the entire meal is a breeze to prepare because it's all cooked to delectable results in one pan.
What I love about roasted chicken is that it's a canvas for so many flavor combinations—you really can't go wrong with whatever you choose to slather on the chicken.
But I have a wonderful idea for you—two words: truffle mustard.
I slathered on a sauce I made with Maille Black Truffle and Chablis Mustard as the main ingredient (there is garlic in there, too, as well as fresh herbs…mmmm)—with lovely results.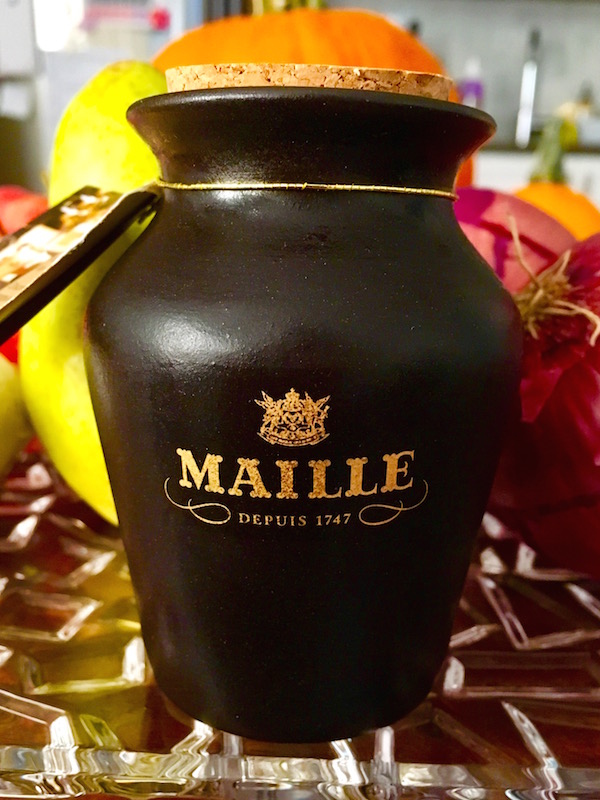 This swoon-worthy mustard, swirled with Chablis and dotted with specks of (yes, real!) black truffles, gives the chicken and potatoes an intense, woodsy flavor—oh so heavenly for a Fall dinner.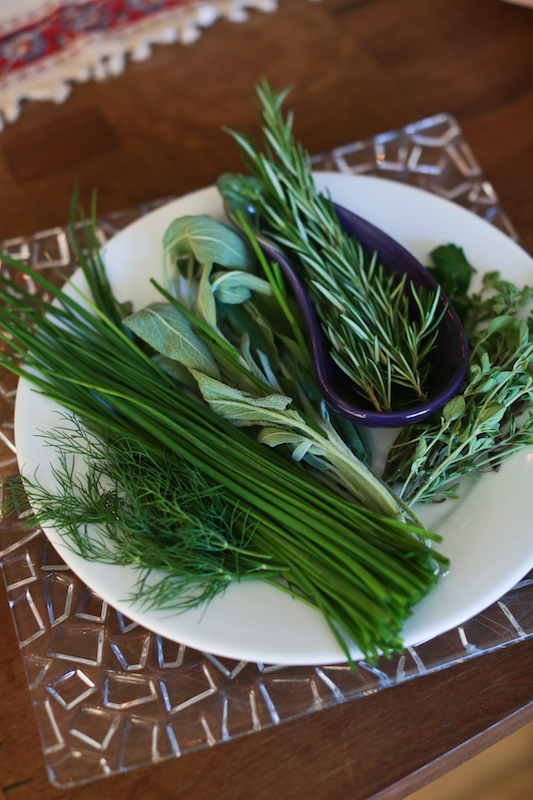 You can use dry herbs if you must, but fresh herbs can be more pleasant for their freshness and pure flavor. Feel free to adjust which herbs you use for your taste buds. For this recipe I've used oregano and rosemary, two aromatic herbs that I just love. (Plus oregano and lemon tastes so good together.) But use what's available or what you like: parsley, thyme, sage, and basil work, too.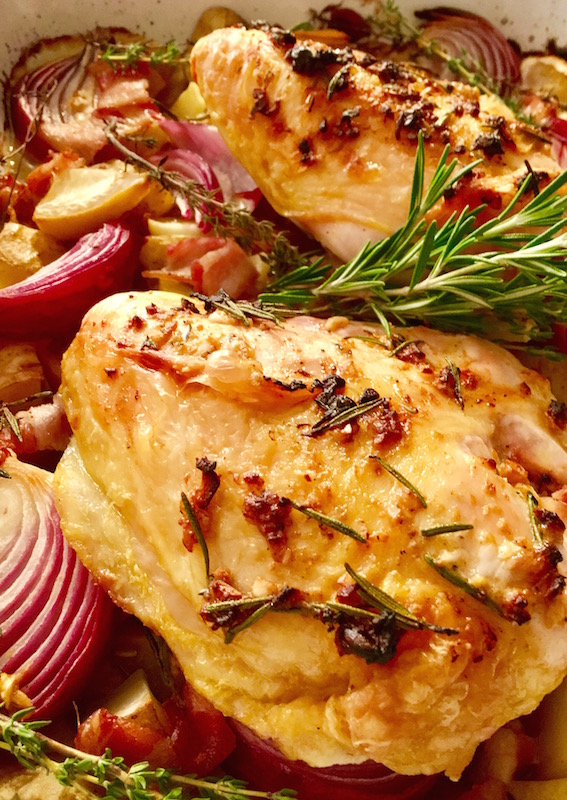 I added potatoes, pears, and onions, but please do experiment: add carrots, apples, sweet potatoes, squash, and/or shallots…whatever you decide, know that it will all meld together magically with the garlic and Maille Black Truffle and Chablis Mustard mustard.
And isn't that what we're all looking for? A magical, mouth-watering, easy to-put-together dinner to serve our families? Yes, indeed.
You can find more dinner recipes in my cookbook: The NYC Kitchen Cookbook.
Kitchen Notes:
For this recipe be sure to have an oven-safe pan. A cast iron skillet would be ideal, for the cast iron helps turn the potatoes and bacon into crispy wonders. But any oven-safe skillet will do. You may be tempted to use a Dutch oven for this, but I don't recommend it. You need a pan with lower sides to make the chicken crispy.
For additional decadence, top with some shaved black truffles. Oh la la.
Maille Black Truffle and Chablis Mustard mustard is available on the Maille web site. Buy some to make this recipe or as a special gift for your favorite home cook.
Disclosure: This post was sponsored by Maille, but the recipes, writing, and opinions are all my own. Sponsored posts help keep The NYC Kitchen going but I only use products I 100% use and endorse.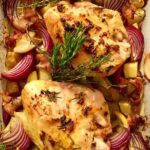 Preheat oven to 450 degrees F.

Remove chicken from the refrigerator, season with salt and pepper, and let sit for 20 or so minutes.

Next, whisk the olive oil with the mustard, 2 cloves of minced garlic, smoked paprika, salt and pepper, and 2 tablespoons of fresh herbs. Set aside.

Heat up a large, oven-safe skillet over low-medium heat. Add the bacon and cook until crisp. Pour out some of the bacon fat. Add potatoes, cooking until somewhat crisp, then add onions and pears, stirring for a minute or two. Turn off flame.

Add the chicken pieces right on top of the potato mixture. Squeeze lemon halves over all the ingredients, including the chicken. Add the additional lemon pieces to the pan.

Slather the chicken with some of the mustard-garlic sauce. Whatever is left over, drizzle over the potato mixture.

Sprinkle remaining fresh herbs over all the ingredients.

Place in oven and roast for 1-1 1/2 hours (check on it at the one hour mark to see how the chicken is crisping up).

Remove from oven and let sit for 10 minutes before serving.