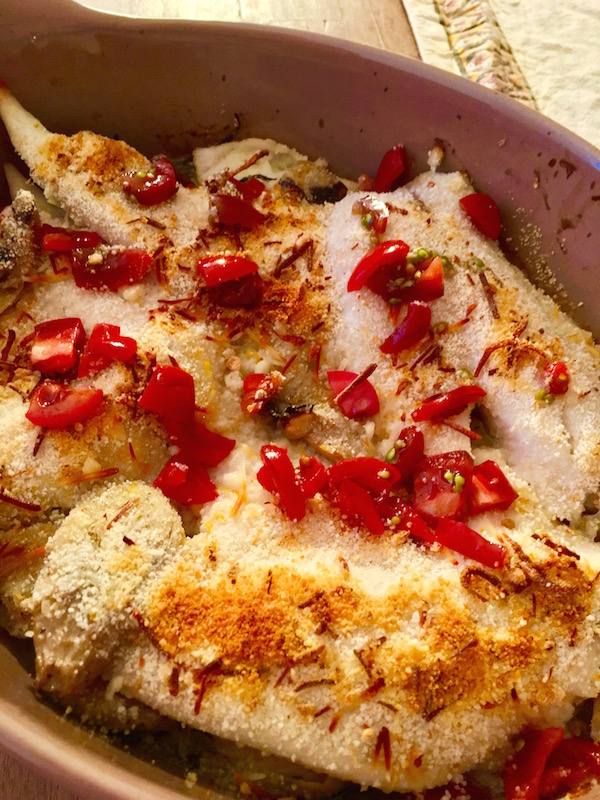 October is National Seafood Month and I've been cooking up a few different seafood dishes but I thought I'd share this one for Baked Garlic Parmesan Tilapia. Baking fish is truly one of the easiest ways to get dinner on the table. It's so easy to take a baking dish, add some seafood, then toss in some vegetables (I added artichokes to the bottom of the pan), fresh herbs, citrus, bread crumbs—and whatever else your taste buds like. I used this beautiful oval gratin dish from Emile Henry.
Although lemon is the citrus most often used with seafood, try using orange. I had a bunch of Mandarin oranges in the refrigerator for my daughter's lunch so I opted for orange instead of the usual lemon for this recipe, using the zest and juice for added flavor.
About Tilapia
Tilapia is a freshwater fish found all around the world. It's the 4th most-eaten fish in the U.S. It's a very mild white fish, making it a simple canvas for lots of flavors. This tilapia is from Regal Springs which produces a sustainable, lake-grown tilapia that is antibiotic-free.
Wine Recommendation
Pair the Baked Garlic Parmesan Tilapia with this Crowded House Sauvignon Blanc.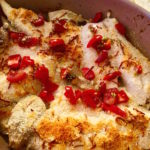 Servings

Prep Time

4

10

minutes
Servings

Prep Time

4

10

minutes
Preheat oven to 375 degrees Fahrenheit. Drizzle a baking dish with olive oil. Add clean and dried off tilapia fillets to the baking dish. Season the fillets with salt and pepper. In a small food processor, combine Panko, Parmesan, garlic, zest, and butter. Pulse until butter is broken up. Pour orange juice and wine over the fillets (there will be extra liquid on the bottom of the pan), then top the fillets with the Panko mixture. Bake for 25 minutes. Garnish with fresh herbs, green olives and/or chopped tomatoes.