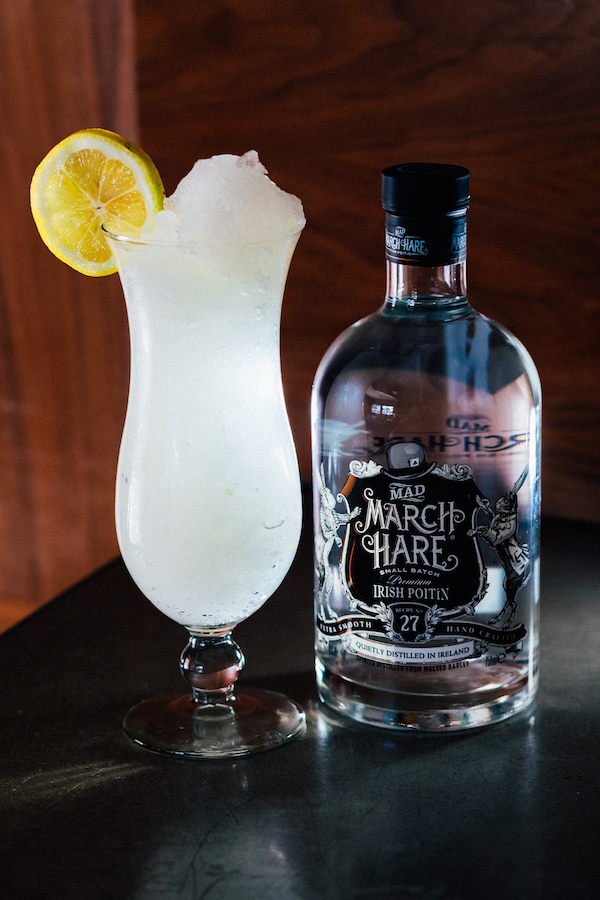 Have you ever tried Irish Poitin? Poitin, pronounced put-cheen, is a modern-day moonshine that you can mix and swirl with other ingredients for a refreshing, yet oh-so-potent, cocktail. Moonshine, said to predate whiskey, was originally made in a small pot, probably in someone's kitchen (illegally) and the Gaelic word for pot is poitin, hence the name. Today, Irish Poitins are made in more professional settings, by such companies as Mad March Hare, which is based in Ireland.
I recently made an Irish Poitin Punch with muddled blackberries and fresh lemon juice.  Now I'd like to share another Irish Poitin cocktail: a minty Frozen Lemonade that your friends will love.
Frozen Lemonade
Makes one serving
2 oz. Mad March Hare Irish Poitín
1.5 oz. mint syrup
.5oz. fresh lemon juice
1/2 cup of ice
2 slices of lemon (or lemon pieces) with peel
Make the Drink
Combine all ingredients in a blender
Pour into a hurricane glass
Garnish with a lemon wedge
Enjoy!
If you want more cocktail recipes, try these peachy ones or these made with Patron tequila.
Stock your kitchen with more wanderlust ingredients with my new guide: Wanderlust in the Kitchen—The Introductory Guide