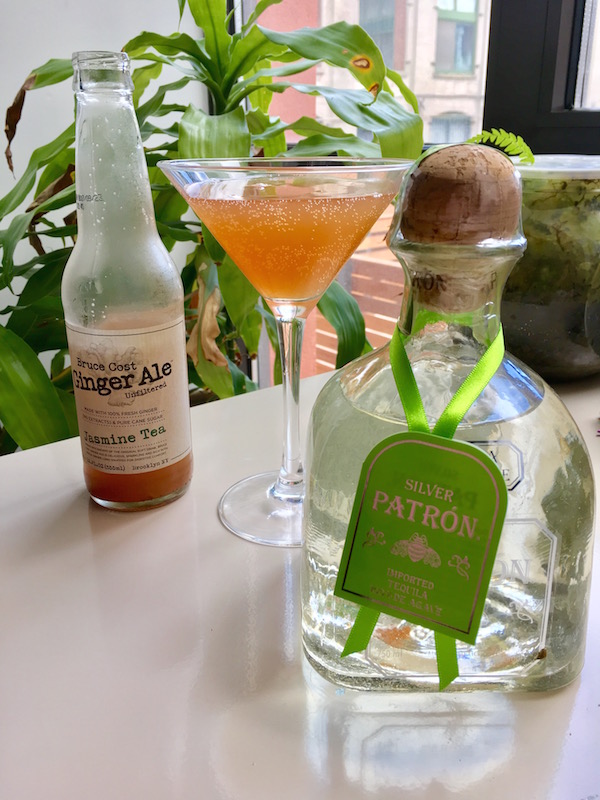 I recently received a bottle of Patrón Silver Tequila and started experimenting, as I often do, not wanting to go the usual classic margarita route, because you can find those anywhere. I like creating drinks with added flavors and flair. Which is not to say that a lovely margarita on the rocks with salt is a boring decision, because they are indeed refreshing on certain occasions.
So instead of tequila with lime, I found myself one weekend making potions and syrups and melding ingredients together in my mind, and then into glasses. The result: several fun Patrón Cocktails you might want to make on Saturday night or perhaps for a boozy brunch.
Delicate, with citrus and slight floral overtones, Patrón Silver Tequila is one of the smoothest, most balanced tequilas I've tasted. I think you'll agree
When you find yourself in the mood for tequila, try one of these fun Patrón Cocktails.
Oh Sweet Ginger
2 ounces of Patrón Silver Tequila
1 ounce of ginger ale (I just love the ginger ale shown above from Bruce Cost)
1 teaspoon of fresh ginger purée
1 ounce of peach bitters (I use the one from The Bitter Truth)
Hudson Sunset
2 ounces of Patrón Silver Tequila
2 ounces blood orange juice
1 ounce of pomegranate juice
1 teaspoon of orange blossom water
2 teaspoons of mint
Manhattan Afternoon
2 ounces of Patrón Silver Tequila
1 ounce black tea syrup*
1 ounce of blackberry syrup*
1/4 teaspoon of rosewater
2 teaspoons of basil, chopped
Brunching in Brooklyn
2 ounces of Patrón Silver Tequila
1 ounce of maple syrup
1 ounce of Cointreau
1 ounce of peach bitters
The Patrón Bloody Maria
2 ounces of Patrón Silver Tequila
4 ounces of tomato juice
1 lime, juiced
2 teaspoons of Worcestershire sauce
1 teaspoon of hot sauce
1/2 tablespoon of horseradish
1 pinch of celery salt
For the first four, simply add ingredients together in a cocktail shaker. Shake vigorously then pour over ice or serve straight up. For the Bloody Maria, add ingredients over ice and stir. Serve with celery and/or some pickled vegetables, including carrots and radish. These all serve 2.
*You can find syrups in some specialty food shops and it's also easy to make your own. Simply add 1/2 cup of sugar with 1/2 cup of whatever liquid you're using, i.e. tea. For blackberry you can muddle 1/2 cup of blackberries with 1/2 cup of sugar, then boil with 1 cup of water. Simmer then strain.