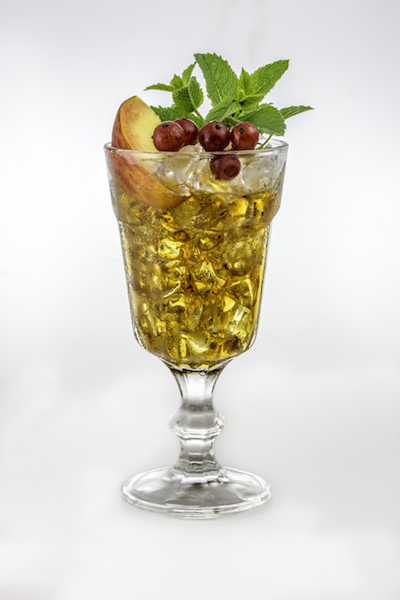 Did you know that August is National Peach Month? Who knew, right? Consider it another excuse to enjoy some more peaches before fall sets in. Aside from peach pie, peach cobbler and other peach-y desserts, you may want to try a refreshing peach cocktail.
The Bitter Truth, which makes—you guessed it—bitters, has created Peach Bitters, which I must say makes a unique addition to many drinks and cocktails.
You can add a dash to a gin & tonic or a glass of Champagne, a splash to a margarita or to a martini. You can even try a splash in iced tea or in lemonade.
I hope to inspire you to try one of these three drinks. They range from super easy to more complex, if you're up for the challenge.
Try one of these:
If you're a beginner—make this incredibly easy Peach n' Beer. (Seriously, it's just two ingredients, so you can't go wrong.)
If you're more adventurous—try the Peach Cobbler Cocktail. This was my choice when tasting all three cocktails.
And, if you consider yourself an at-home mixologist (or you feel like trying to be one)—make the Georgia O'Peach.
There is still time to enjoy summer, so get some Peach Bitters from The Bitter Truth and create some lovely summer peach cocktails.
These peach cocktails were created by former bartenders Alex Hauck and Stephan Berg, owners of The Bitter Truth, plus well-known bartender/artist Kenneth Vanhooser of New York hotspots, Cote and Piora.