This chicken tagine is warm and welcoming,

sweet and savory—and pleasing to your senses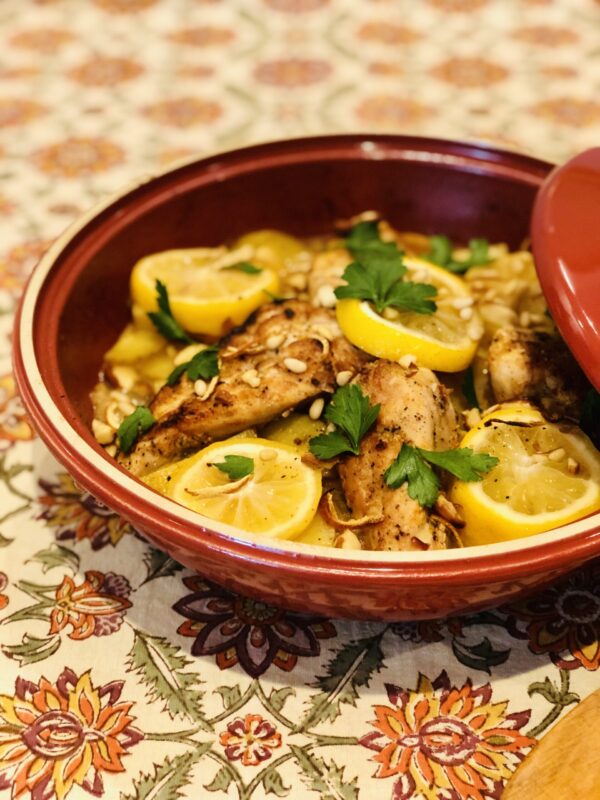 Aromatic and fragrant, a tagine is a North African dish, named as such because of the vessel in which it's cooked. This ancient dish can be made in a variety of ways, with a variety of ingredients, but many that I've researched include preserved lemons, olives, and almonds. I've made my own rendition here, while using some spices often found in a tagine, including paprika, cumin, and ginger. You don't necessarily need a tagine to make a chicken tagine  (you could also use a Dutch oven) but there's something special about cooking with a tagine. The conical cover of this earthenware pot locks in the flavors as it steams and bastes the food for an aromatic stew with a depth of flavors.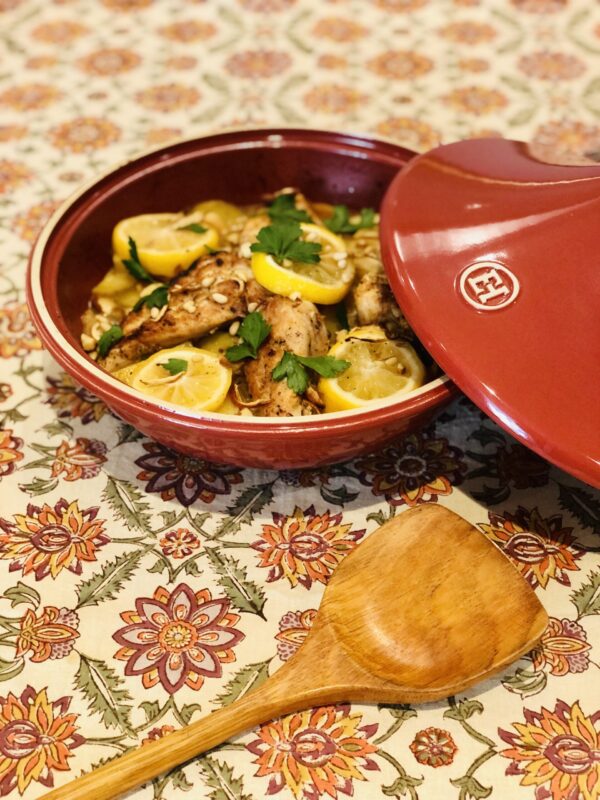 Chicken Tagine with Apricots + Almonds
Ingredients
1 teaspoon smoked paprika
1 teaspoon ground cumin
¼ teaspoon cayenne pepper
½ teaspoon ground ginger
½ teaspoon ground coriander
1 teaspoon of red pepper flakes
2 lemons, one sliced, one zested (you can also use preserved lemons for the one that's sliced)
3 pounds of chicken pieces (it's best to use skin on chicken, though I didn't do so for these photos)
Salt and ground black pepper
1 tablespoon olive oil
1 large onion, sliced
3 cloves garlic, sliced
1/2 cup dried apricots, sliced
1 cup of chicken broth
2 large potatoes, sliced into half moons (cut in half lengthwise and then sliced)
2 tablespoons honey (I used Mike's Hot Honey)
2 tablespoons of crushed nuts, perhaps almonds, pistachios and/or toasted pine nuts
2 tablespoons of parsley (optional)
Rice or couscous
Directions
Ahead of time, rinse and dry chicken. Combine spices and lemon zest in a bowl. Salt and pepper the chicken then add it to the bowl, ensuring that the spices cover the chicken. Refrigerate overnight or for a few hours. When you're ready to make the dish, preheat oven to 350 degrees Fahrenheit and remove chicken from the refrigerator. Let it sit for 15-20 minutes. In the base of a tagine (or a deep pan that has a cover), heat olive oil over medium heat. Brown the chicken for about 4 minutes on each side. Remove from the pan. Lower heat to low-medium and add the onions. Sauté for a few minutes, then add the garlic and stir for another minute or so. Add the potatoes, spreading them around the dish, then add the chicken and lemon slices. Pour in the chicken broth, sprinkle the nuts over the chicken, then drizzle with honey. Cover and roast in the oven for 35-40 minutes. Remove from the oven and sprinkle with parsley. Serve with rice or couscous.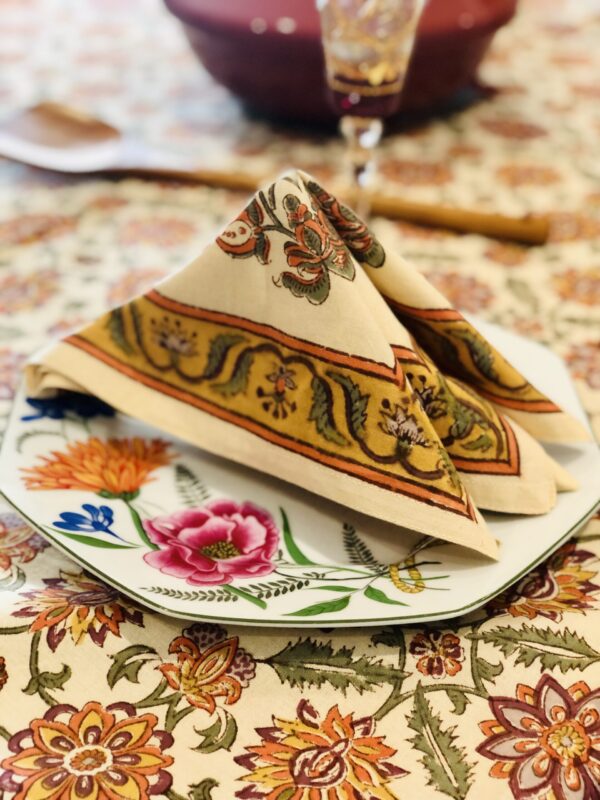 Kitchen Notes
Tagine: The Emile Henry Tagine
What's great about this beautiful tagine that's made in France is that it can easily go from refrigerator to stovetop to oven without any issues.
Spices: Kalustyans
Wine Pairing: Hearst Ranch Winery Tempranillo
Cotton Tablecloth: Orange Blossom Persian Mediterranean Floral Print from Saffron Marigold, which makes gorgeous hand-blocked, fair-trade, all cotton textiles for the home. They are stunning!
Cotton Napkins: Orange Blossom Persian Mediterranean Floral Print from Saffron Marigold