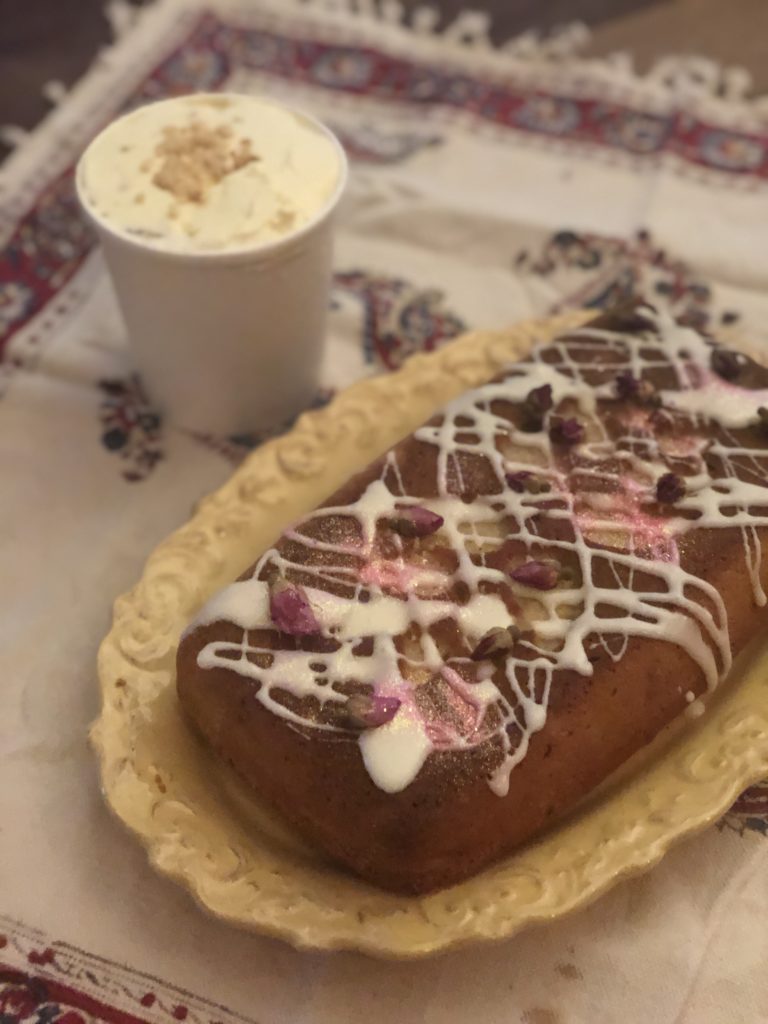 I highly recommend you become acquainted with making pound cakes. Not only are they easy to make, they look and taste good, too. Pound cakes (along with bundt cakes) have become my go-to dessert when hosting or going to a dinner or party. While often thought of as boring, a pound cake with the right ingredients can easily become a seductive dessert.
Take the humble pound cake and dress it up with mesmerizing flavors like cardamom, bourbon, and Nielsen-Massey vanilla extract from Madagascar. Sprinkle it with edible glitter, flower petals, or colored sugar. It'll look so pretty. When having guests over, you can serve a slice of cake with ice cream, whipped cream, or simply a drizzle of icing. The cake above was served with gelato from Caffè Panna in NYC's Gramercy Park.
Vanilla-Cardamom-Maple Pound Cake Recipe
Ingredients
1 1/2 cups all-purpose flour
2 teaspoons baking powder
1/2 teaspoon salt
1 teaspoon cardamom, plus a pinch
1 cup plain Greek yogurt
1 cup of sugar
1 tablespoon of maple syrup (the real stuff)
1 tablespoon of bourbon (optional)
3 eggs
1 teaspoon Nielsen-Massey vanilla
1/3 cup mild olive oil or vegetable oil
1/4 cup plus 2 tablespoon brewed coffee
1 cup powdered sugar
Make the Cake
Preheat oven to 350F. Grease an 8 1/2 by 4 1/4-inch loaf pan. I use a silicone loaf pan and never need to grease it.
Combine flour, baking powder, salt and 1 teaspoon cardamom.
Combine yogurt, sugar, maple syrup, bourbon, eggs, vanilla, and oil; whisk well. Slowly stir in flour mixture. Pour batter into prepared pan and bake 50 to 55 minutes, until a cake tester placed in the center of loaf comes out clean. Cool for 10 minutes then remove to a plate. Let cool for 15 minutes or so. To prepare icing, combine powdered sugar, a pinch of cardamom, and a tablespoon of maple syrup, stirring until smooth. Add more sugar if necessary to reach spreading consistency. When cake is cool, drizzle glaze over cake. Decorate with flower petals, edible glitter or some of the ideas below.
Some ideas to inspire you while baking
swirl in some nutella or caramel
add chocolate chips and/or coconut flakes
add chopped dates and orange zest
add orange blossom or rosewater (just a touch)
replace bourbon or maple syrup with espresso or tea
sprinkle with crystallized ginger, chopped pistachios, or candied pecans
add crushed peppermints and Nielsen-Massey Pure Peppermint extract for a holiday-esque cake
most of all, have fun!
Want to add extra adventure to your meals? Get the Wanderlust in the Kitchen Guide. Dinner will never be the same again!
Check out my influencer store, The NYC Kitchen, over on Amazon to see check out my favorite products.