While apples often take center stage in the fall, there's nothing like devouring a recipe made with pumpkin when the air turns crisp. This earthy fruit that's a member of the squash family is so versatile it can be added to both sweet and savory recipes (and coffee, too). Add a dash of cinnamon, a pinch of nutmeg, a few cloves or some maple syrup and pumpkin's flesh is turned into an ingredient to savor.
Thank you to these luxurious hotels/resorts, which shared their pumpkin recipes:
Otesaga Resort Hotel in Cooperstown, New York
Sea Island Resort in Georgia
The Jade Hotel's restaurant Grape & Vine in New York City.
Enjoy this drink, dinner and dessert—all made with one of fall's most beloved ingredients.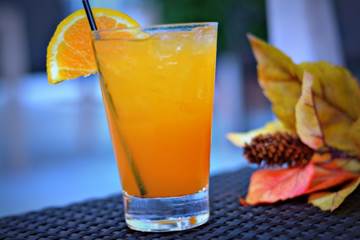 Autumn Harvest Cocktail from Otesaga Resort Hotel, Cooperstown, NY
2 oz. Pumpkin Syrup (recipe follows)
1 oz. Cooperstown Distillery Beanball Bourbon
2 oz. Fly Creek Hard Cider
In a Highball glass, filled with ice, combine all ingredients. Cover and shake well to incorporate; garnish with orange slice.
Pumpkin Syrup
1 1/2 pounds Cubed Fresh Pumpkin (or 2 15.9 oz. Canned Pumpkin)
2 cups Sugar
2 cups Water
2 Cinnamon Sticks
10 Whole Clove
1/2 tsp. Nutmeg
Combine sugar, pumpkin and water in a saucepan, over medium/high heat. Bring liquid to a boil and reduce heat to medium; stir occasionally, until pumpkin softens. Once pumpkin is thoroughly cooked, add cinnamon, clove and nutmeg. Remove from heat and place in refrigerator until cool. Strain mixture through a fine mesh, removing all pumpkin solids, cinnamon and cloves. Syrup will keep in refrigerator for up to one week.
+++++++++++++++++++++++++++++++++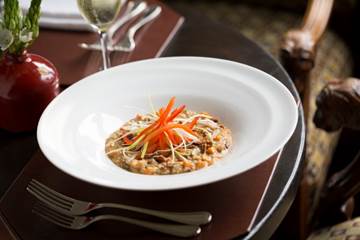 Pumpkin Risotto from Sea Island Resort, Georgia
7 cups Chicken or Ham Stock
1 tsp. Olive Oil
¾ pound Onion, Finely Chopped
1 tsp. Large Clove Garlic, minced
1 ½ cups Arborio Rice
1/2 cups Sparking Wine
1 tbs. sugar
1 cup Toasted Pecan
1 tbs. Allspice
1 cup Pumpkin Puree
½ cup Grated Parmesan
1 teaspoon salt
Heat the stock to a simmer, and continue simmering it while preparing the recipe.
Heat the nonstick pot until it is very hot. Reduce heat to medium high, and add oil. Sautéed onion and garlic until onion begins to soften. Stir in rice to coat well; add wine, and cook until wine has evaporated. Add 1 cup of the stock with the Nutmeg and Allspice to the rice; reduce heat so that mixture simmers. Stir often, cooking until most of the liquid has been absorbed by the rice. Repeat with another cup of stock, and continue stirring, adding stock until the rice is almost tender but still has some bite to it. Stir in the pumpkin, cheese, salt and pepper, pecans and stir until mixture is hot.
 +++++++++++++++++++++++++++++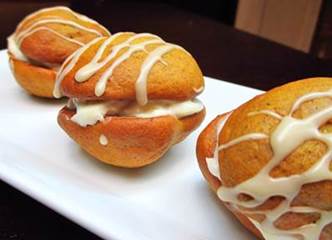 Maple Pumpkin Whoopie Pies from Grape & Vine in The Jade Hotel, NYC
Cookie
3 cups All-Purpose Flour
1 ½ cups Sugar
2 tsp. Baking Powder
2 tsp. Baking Soda
1 ½ tsp. Cinnamon
1 tsp. Nutmeg
1 tsp. Ground clove
½ tsp. Salt
5 Eggs
15 oz. Pumpkin Puree
½ cup Water
½ cup Canola Oil
1 tsp. Vanilla Extract
Combine all your dry ingredients in one bowl. Whisk the eggs, puree, water, oil and vanilla extract in another bowl. Finally stir the dry ingredients into the bowl with the wet ingredients until smooth. Portion out tablespoon sized dollops of the batter and cook at 350 degrees for 8-10 minutes
Filling
4 oz. Cream Cheese
¼ cup Butter
2 cups powdered sugar
1 tsp. Vanilla Extract
Combine all ingredients in a bowl and mix together until there are no lumps. *Tip from the chef: wait until the cookies have cooled before filling.