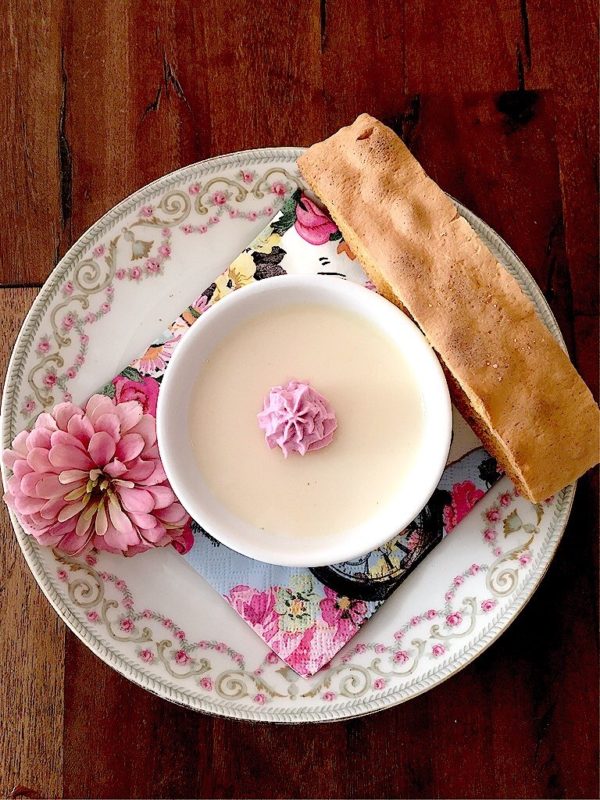 Need an elegant dessert idea? How about panna cotta?
Panna cotta translates to "cooked cream" in Italian. It's refrigerated to make a chilled dessert. Easy yet elegant, this Earl Grey panna cotta is made all the more enticing with loose leaf tea. Make it the night before you want to serve so the custard can solidify. See below for a few variations.
Serves 4
Ingredients
1 cup of whole milk
2 teaspoons of gelatin powder
1/4 cup of granulated sugar
1/2 vanilla pod with beans (scraped out with a spoon)
1 cup of cream
2 teaspoons of loose leaf Earl Grey tea
Directions
In a saucepan, combine milk and gelatin. Stir until combined and turn the heat to low-medium. Stir until the gelatin is fully dissolved.; be careful not to let the milk curdle or burn. Add sugar and stir until dissolved. Add vanilla pod and beans. Remove from heat and stir in the tea leaves and cream. Let sit for 30 minutes. Strain the liquid, then pour into ramekins. Cover and refrigerate overnight if possible, otherwise for at least 6 hours. Serve the Earl Grey panna cotta with whipped cream and/or chocolate sauce (not shown).
Alternative Ideas
Chai Tea: Swap the Earl Grey leaves for loose Chai tea.
Matcha: Omit the tea leaves and add 2 teaspoons of matcha.
Vanilla Bean: Omit the tea leaves. Add 2 teaspoons of vanilla extract (in addition to the pod and beans).
Want to add extra adventure to your meals?  Get the Wanderlust in the Kitchen Guide. Dinner will never be the same again!
Check out my influencer store, The NYC Kitchen, over on Amazon to see check out my favorite products.