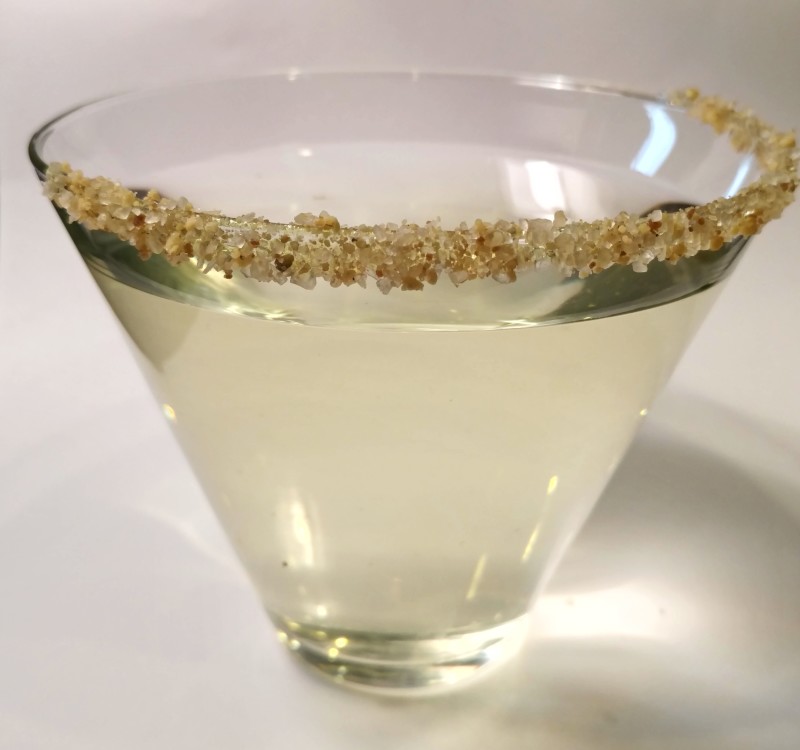 Sunday, June 18th, is both National Martini Day and Father's Day. Let's toast these occasions with a straight-up Olive-Salted Chopin Vodka Martini. It's an easy-to-make at home cocktail.
And what makes a great martini?
In my opinion, it's using a top-shelf, great-tasting vodka. Which is why I want to tell you about Chopin Potato Vodka; it's named after composer Frederick Chopin (his likeness can be seen through a window on the bottle). Not only is the bottle sleek and sophisticated, but it's one of the smoothest vodkas I've tasted. It's not mass-produced: rather it's made in small batches. And, it's won several awards, including a Gold Medal at the San Francisco World Spirits Competition.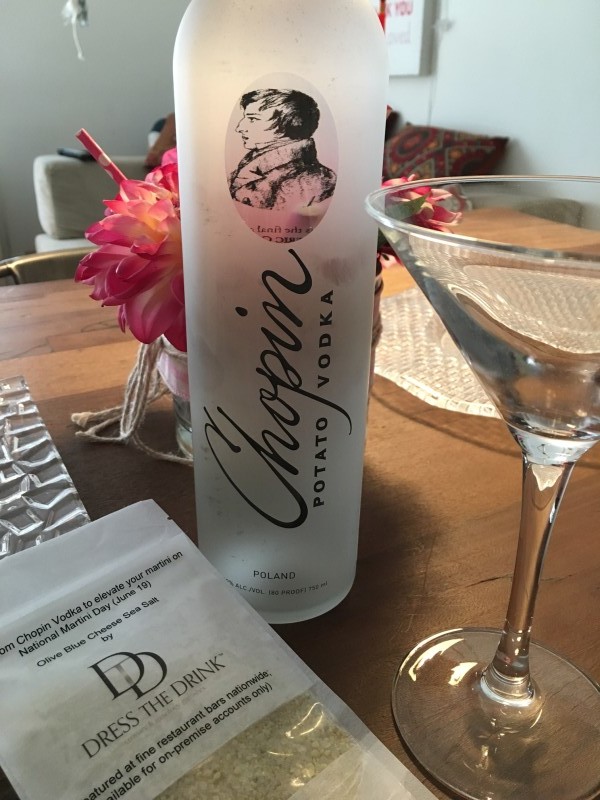 The Chopin Vodka web site calls the vodka: A sophisticated vodka for discerning connoisseurs.
The other elements that add up to a great martini are: a touch of Vermouth, olives and something new I discovered: olive, blue cheese sea salt. By now, you know that we don't eat or drink the ordinary around here. There's always an ingredient that makes the recipe stand out, and this salt from Dress the Drink is no exception. Dress the Drink also has some other incredible salts for cocktails, including apricot, fig, clove and honey; crushed edible flowers with cardamom, lavender and seat salt; and others.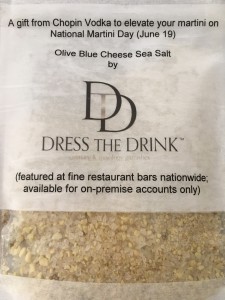 Whether you're celebrating Father's Day, National Martini Day—or celebrating "just because"—enjoy this Chopin Vodka Martini with olive blue cheese sea salt.
[ultimate-recipe id="6730″ template="default"]