How to make a dreamy brioche bread pudding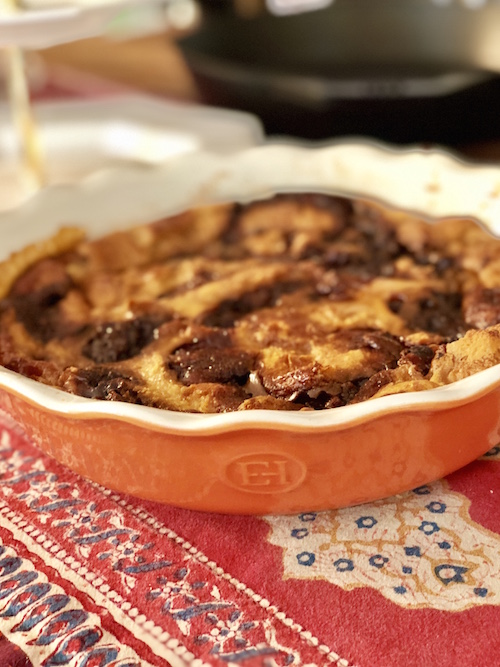 If you're looking for a cozy, satisfying, old-fashioned dessert, bread pudding checks off all of those boxes. And when it's made with fluffy brioche (I used the brioche swirls with chocolate chips from European company St. Pierre), a pinch of cardamom, and a dash of bourbon, then you've got yourself a dessert your friends will like, too. That is if it makes it that far. : ) It might not, especially if you top it with fresh whipped cream or serve it with your favorite ice cream.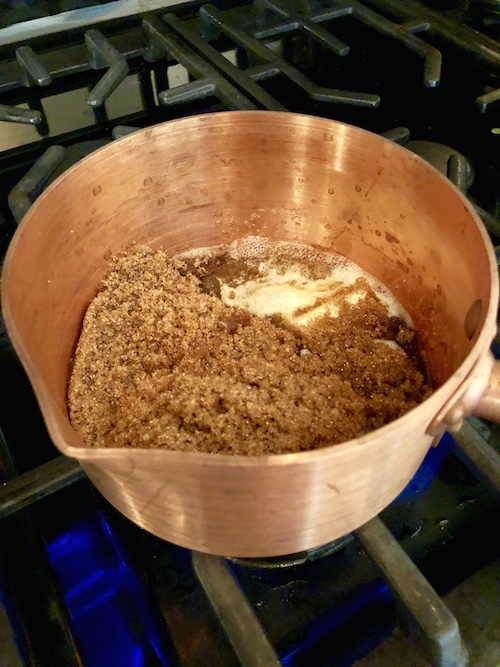 What makes this particular bread pudding oh so good is the swirling of brown sugar melted with butter, which adds a burnt caramel effect. It happened by accident…I happened to have run out of regular sugar when I decided to make this, so brown sugar it was. And I let it melt for a few minutes longer than necessary to achieve a slight burnt taste. It all ended well, thankfully.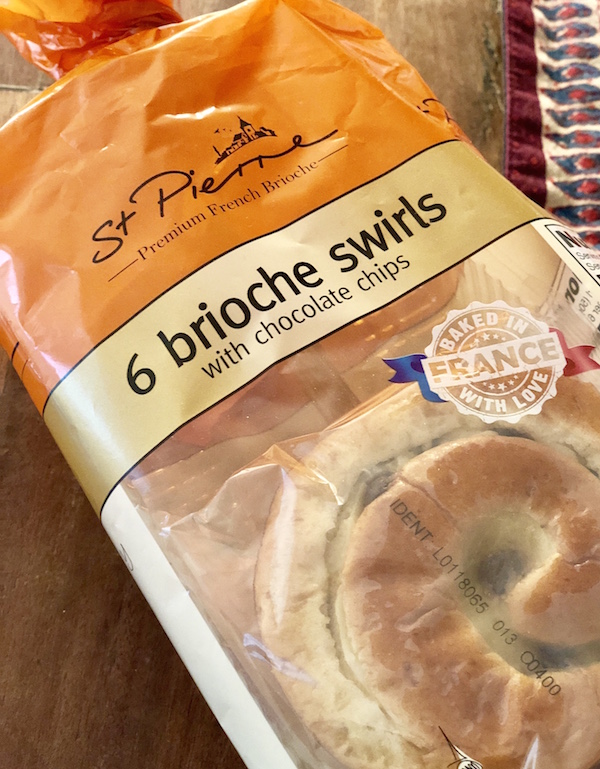 Yes, you can use whatever bread you like, but brioche gives it a delicate rather than dense consistency. You can see the brioche that I used here.
Whisking the milk and eggs is when you can add in flavors you like. In this case a touch of bourbon and some spices like cinnamon, nutmeg, and cardamom. But you can mix and match flavors you like. Other options you may want to consider for your brioche bread pudding: cocoa powder, rum, orange zest, eggnog, bananas, raisins, Nutella, coconut milk, coconut flakes, vanilla beans, chocolate chips, matcha, and so on.
Brown Sugar Brioche Bread Pudding
2 cups of brioche, broken up into pieces
1 cup of brown sugar
4 tablespoons of butter
2 cups of milk
4 eggs
1 teaspoon of vanilla
2 teaspoons of bourbon (optional)
1 teaspoon each of cinnamon, nutmeg, and cardamom (or whatever spices you like)
Spray or butter a baking dish. Toss the brioche pieces into the dish. In a small saucepan, melt the brown sugar and butter together until it has the consistency of caramel (and looks pour-able), about 5-6 minutes. Be sure to stir it almost the whole time. Set aside to cool. In a bowl, whisk together the remaining ingredients. Once the brown sugar mixture is cool, add that to the milk and continue to whisk. Pour this over the brioche, then preheat oven to 350 degrees Fahrenheit. Let the brioche soak up the liquid for about 15 minutes. Then bake in the oven for 45 minutes or until golden brown on top. Serve alone or with whipped cream or ice cream.
Want to add adventure to your meals?  Get the Wanderlust in the Kitchen Guide. Dinner will never be the same again!