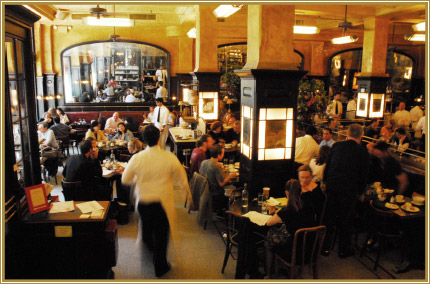 To be in Paris is a dream for many food lovers. From the markets to the bistros to elegant restaurants, there is much to be devoured in Paris. It's where Julia Child got her start, where Ernest Hemingway wrote A Moveable Feast, where well-known blogger Clothilde Dusoulier creates recipes in her kitchen and where countless chefs have studied, worked and fallen in love with the food.
Yet taking a trip isn't always on the menu.
Fortunately, the craving for French cuisine can be easily quelled around town. New York City is home to many old-school French restaurants, where dishes like escargots, coq au vin and chocolate soufflé have not fallen out of fashion. There are variety of French restaurants—from charming neighborhood hangout to spectacular night on the town—where you can eat like the French do any day of the week. I've included menus and recommendations.
Some night, skip the spicy, fusion, newfangled, the over-the-top and enjoy one of the most satisfying cuisines on the planet.You might not be in Paris, but you can still be captivated by cuisine Française.
1.) La Mangeoireis a cozy neighborhood bistro (I wrote about Gerard Donato for Haute Living.) For over 35 years, La Mangeoire has been serving French country cooking, including many classics like onion soup, mussels, coq au vin and steak au poivre on Second Avenue at 53rd St. For dessert get the profiteroles or milk chocolate mousse.
Drool over the menu here.
2.) Brasserie Les Halles is where Anthony Bourdain made his mark. Expect classics like escargots, carpaccio, steak frites, mussels, frisée salad with lardons, country pate, and pan seared scallops at this bustling brasserie.
Check out the menu here.
3.) Balthazar had its heyday in the late nineties, yet it's still going strong, thanks to regulars who love to lunch and late-night dinners here and the tourists on shopping sprees in SoHo. Stop in any time of day and expect a wait. But once you sit down you'll be mesmerized by the plateaux de fruits de mer, towers of raw shellfish passing by. You could also try bouillabaisse, duck's shepherd pie, salad niçoise, moules frites and cotes de boeuf. If you want to beat the crowds come for breakfast or a midnight snack.
Get the menus here.

4.) Cafe Boulud is the less formal version of Daniel, a phenomenal place to dine for a special occasion. At Cafe Boulud, you'll find classic dishes made with with local products: roasted Vermont chicken breast, spring risotto with farmer's market product, Maine peekytoe crab, Long Island duck and more.
To see the lunch and dinner menus, click here.
5.) La Grenouille has a classic, old school atmosphere, with classic dishes to match. Come here for a special occasion (men have to wear a jacket) and celebrate over Dover sole, duck confit, tournedos de boeuf and then linger over a famous French dessert: Grand Marnier soufflé.
You can see the menu here.
6.) Taureau, a modern French fondue bistro, is the place to visit if you love fondue. Order meat fondue, dessert fondue or the most popular: cheese. Choose among Cheddar-Monterey, Smoked Dutch, Soprano, Devil's Wiff, Perigord, Euro-Spaniard, Pyrenees, Alpine, Old Swiss, Asiago or Italian. A fun place for a get-together with friends.
Find out what's on the fondue menu here.
7.) Le Bernardin. More a temple to seafood than classically French, Le Bernardin makes the list because French chef/owner Eric Ripert is one of the most masterful French chefs. He incorporates his classic training into dishes that are categorized by: almost raw, barely touched and lightly cooked. This is not neighborhood bistro fare. Come here to be wowed, from the second you walk in all the way to exquisitely-made desserts.
See the divine menu here.
8.) Buvette is an adorable outpost of a Parisian bistro of the same name. come here after strolling around the city for breakfast, lunch or dinner—it's casual and cozy for a light breakfast of coffee and croissant, croque monsieur for lunch or for coq au vin or cassoulet for dinner. A neighborhood favorite…if you live in or near the West Village.
Peruse the menu here.
9.) Chez Jacqueline is a casual bistro, though it's Provencal, not Parisian. Stop by after a walk through Washington Square Park, a movie at the Angelika or shopping in Soho for three types of broth for mussels, onion soup, beef stew, trout almondine and for dessert, tarte tatin de Jacqueline or creme brulée.
Look at the Provençal menu menu.
10.) Amélie is an alluring wine bar. But don't expect bar food. Instead you'll be just as riveted by the food as you will by the wine. Order a cheese plate, charcuterie, salad with lardons, brandade de morue, salmon tartare, duck confit and other dishes that will think you've landed in Paris, not the Village.
See the wine and food menu here.