Enjoy this Easy Stir Fry Recipe

My teenage daughter is obsessed with noodles of all kinds, from rice to egg to glass to udon to ramen. She could eat a noodle dish every day—and the spicier the better. We usually have a variety of noodles in stock and sometimes I get the ones with packets to make broth (and to make life easier on busy days), but I always jazz them up with additional ingredients. So I knew she'd love these yaki-soba noodles.
For dinner recently, we made a package of Fortune Yaki-soba noodles and served it as a side dish with 5-Spice Roasted Chicken.
Yakisoba noodles are made of buckwheat. They are a Japanese stir fry noodle usually served with a sauce akin to Worcestershire. According to Wikipedia, they were first served in food stalls in Japan post WWII.
For my own rendition, I added shrimp, ginger and scallions…plus jalapeño and red pepper flakes to satiate my daughter's love of spicy food, but feel free to tone the spices down and either lower the amount or omit altogether.
With noodle dishes like this, you can experiment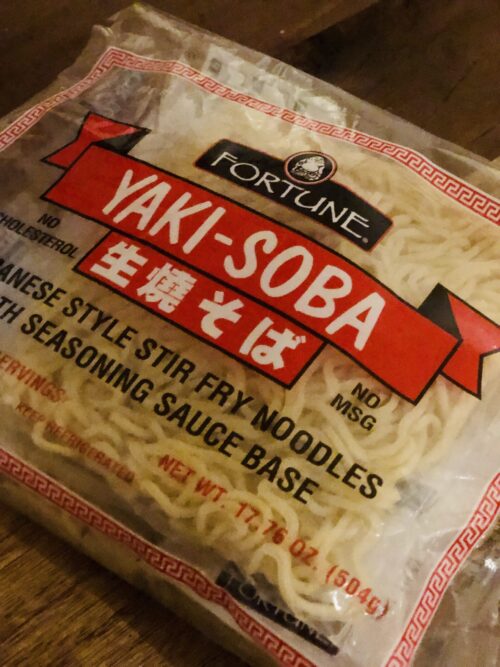 Ingredients
1 package of Fortune Yaki-soba noodles
2 tablespoons of olive oil
3-4 scallion stalks, cut into 1-inch pieces
2 cloves of garlic, chopped
1-inch piece of ginger, chopped
2 teaspoons of jalapeño pepper, minced
1 1/2 teaspoon crushed red pepper
1/2 pound of shrimp, shelled
1/2 of the packet that comes with the noodles
2 tablespoons of soy sauce
To garnish:
Rice seasoning (shown below), sesame seeds, additional scallions, chopped carrot, crushed peanuts (all optional; add whichever you like)
Heat olive oil in a wok or sauté pan over medium heat. Add the scallions and sear them for a few minutes. Toss in the the garlic, ginger, jalapeño, and red pepper. Stir for a minute or two. Add the shrimp and let it cook for a minute before stirring. Start to stir then add the Yakisoba noodles, the packet (I used half), and soy sauce. Continue to stir then once the shrimp are done, remove from heat. Serve in individual bowls. Sprinkle with rice seasoning (shown below), sesame seeds, additional scallions, chopped carrot and perhaps some crushed peanuts.
If you want even more spice, add some Sriracha.
Enjoy!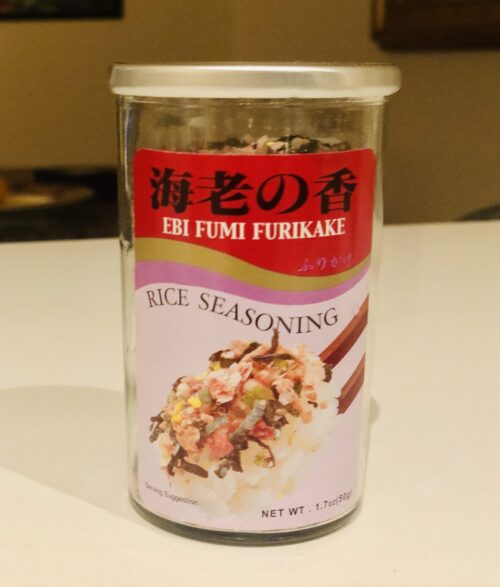 You can purchase Fortune products at: Safeway, Fred Meyer, QFC, Associated Stores, Cub Foods, United Supermarkets, Roche Bros.,Meijer, Shaw's, Stop n Shop, Price Rite, Shop Rite, Wakefern, Price Chopper, Giant, HEB, Walmart, and Grocery Outlet.