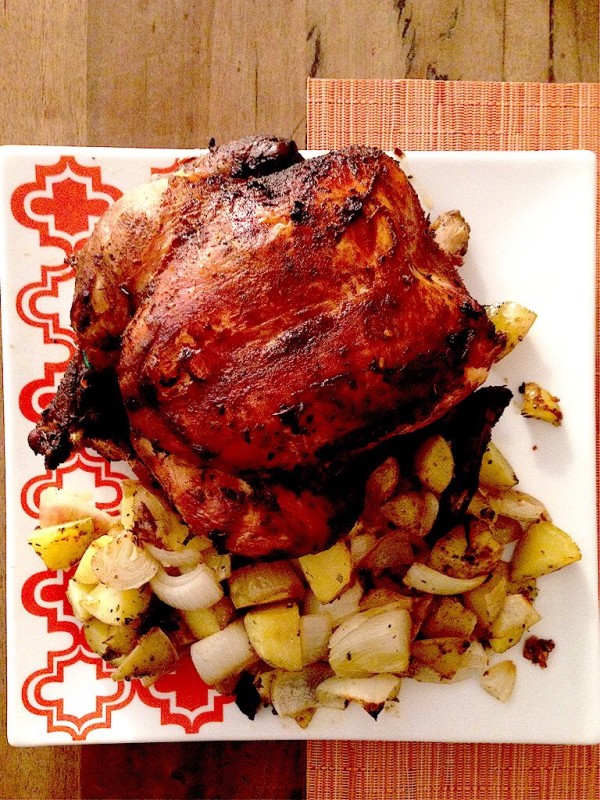 Crisp skin and juicy meat…the much beloved roasted chicken makes an easy weeknight meal. Here we spiced it up with Chinese 5-Spice, which is a blend of cinnamon, cloves, Szechuan pepper, fennel and star anise. This popular Asian spice adds a sweet-savory-pungent flavor to the humble chicken.
One chicken + Chinese 5-spice = Easy, delicious dinner

You can certainly add in other ingredients: some days I put in orange or lemon into the cavity of the chicken. Or I'll rub fresh ginger paste on the chicken before adding the spice. But none of this is necessary.
To make things easy, I chop up about 3 medium potatoes and 1 large onion and throw them into the roasting pan. (Mixed with all the juices, it's divine.) Serve with a simple green salad (not shown). Most of the work will take place while the chicken is roasting in the oven, giving you more time for other things.
All you'll need at a glance:
A roasting pan
1 3-4 pound whole chicken
Chinese 5-Spice (available at Asian markets and most supermarkets)
Kosher salt or Fleur de Sel (which I pick up at The Meadow)
Freshly-ground pepper
And, if you so desire: 3 potatoes, 1 onion and some of your favorite lettuce, dressed simply with olive oil and lemon.
[ultimate-recipe id="6616″ template="default"]