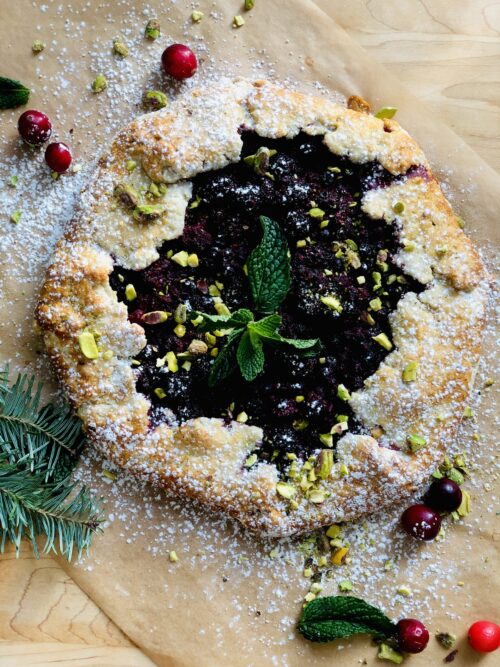 Wild blueberries, Maine's official state fruit, shine in dinner, drinks, and of course dessert—Featuring Wyman's
If you ever visit Maine, one of my favorite destinations, blueberries are ubiquitous: they're found in muffins and pies, on pancakes and oatmeal, in smoothies and jams—and of course on their own as a healthy snack. And no wonder: Maine is the largest producer of blueberries in the world. The berries thrive in Maine's rugged land and varied climate; as such they are Maine's official state fruit.
Maine's main producers of frozen wild blueberries, Wyman's, was founded in 1874 by Jasper Wyman; now in its 4th generation as a family business, Wyman's berries are grown on over 17,000 acres of land in both Maine and Canada. 
Wyman's has become my go-to not only for their wild blueberries, but for their blends, too, including the Triple Berry (blackberries, raspberries, and blueberries), which I used in the following dessert. I suggest keeping a bag or two of your favorites in the freezer so you can make impromptu recipes next time you're in the mood for something a bit extra special, like these 3 dinner-party worthy recipes you can enjoy over the holidays—or any time.
Earl Grey Blueberry Ginger Sparkler
You'll want to make the syrup for this Earl Grey Blueberry Ginger Sparkler ahead of time since it needs to cool before serving.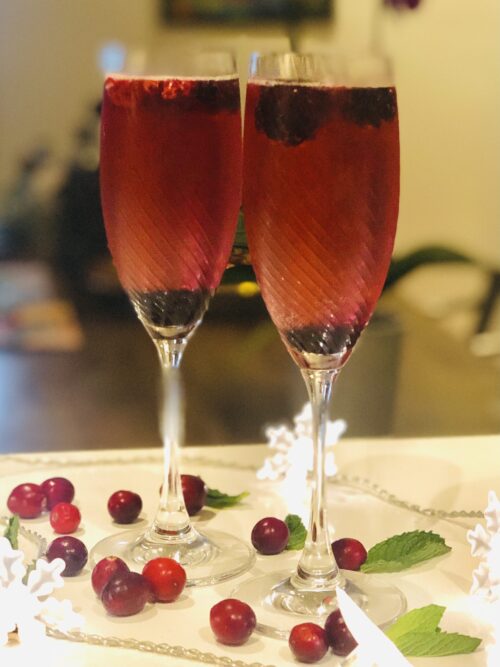 Ingredients
1 tablespoon of fresh ginger, sliced
1/2 cup of sugar
1/2 teaspoon of Earl Grey tea leaves
1/2 cup Wyman's Frozen Blueberries
1/2 cup water
1 bottle of Prosecco
extra berries, to garnish
Add all ingredients to a small pot. Over high heat stir ingredients and bring to a boil. Once it starts boiling, lower heat then simmer for 8-10 minutes, stirring occasionally. Remove from heat and let sit for about 5 minutes. Strain the ingredients through a sieve and let cool. When you're ready to serve, add about 1 tablespoon of the blueberry liquid into a Champagne flute. Add Prosecco and garnish with frozen berries. Enjoy!
Seared New York Strip Steak with Blueberry-Balsamic Bourbon Sauce
This sauce is simultaneously sweet, tart, and sour, making it a sauce with some complexity. While it's perfect on steak, you could also serve this to grilled chicken or roasted pork tenderloin.

Ingredients
2 tablespoons of olive oil
1 clove of garlic, minced
1/2 cup of Balsamic vinegar
1/4 cup of honey
1 nip of bourbon (50 ml)
1 cup of blueberries
2 tablespoons of rosemary, chopped
Salt + pepper to taste
3 tablespoons of butter
In a medium saucepan, sauté the garlic in olive oil over medium heat just for a minute or two. add the remaining ingredients and stir thoroughly. Let simmer for about 10-15 minutes. Remove from heat and stir in 3 tablespoons of butter. While the sauce is simmering, cook the steak according to your preference. Serve the sauce over the steak. Garnish with more rosemary. Serve immediately.
Mixed Berry Galette with Almond Frangipani
Although this recipe has a few steps, they're quite easy—and so worth it—once you see (and taste) the final product. While I used Wyman's Mixed Berries, you could stick with just their wild blueberries, if you like.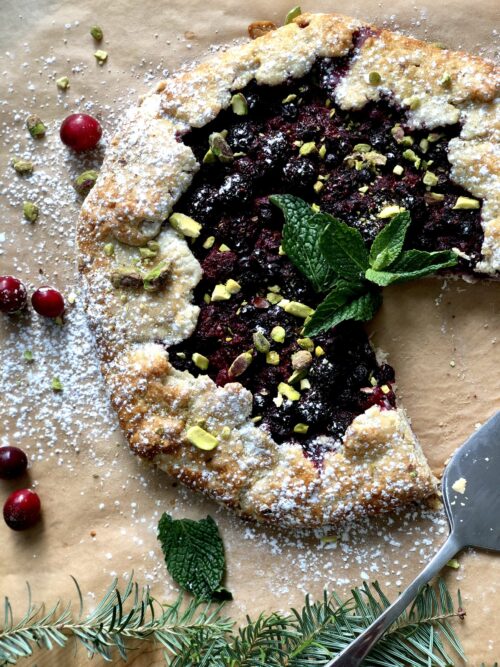 For the Frangipani
Ingredients
3 tablespoons butter, softened
1/4 cup granulated sugar
1/2 cup almond flour
1 large egg
1/4 teaspoon of almond extract
1/2 teaspoon of vanilla
Blend the butter and the sugar together in food processor or the bowl of a stand mixer. Add the almond flour and mix to combine. Add the almond extract, the vanilla and the egg, and blend until combined. Chill in the refrigerator until you're ready to use it.
For the Dough
Ingredients
1-1/2 cups all-purpose flour
1/2 teaspoon of sugar
1 pinch of salt (about 1/4 teaspoon)
8 tablespoons of cold unsalted butter, cut into pieces (I usually slice the stick in half then slice those pieces, then slice again into 4ths)
About 4 tablespoons (possibly more) of ice water
If you have a food processor, use that, but you can also use a stand mixer, as I do. Add the flour, sugar, and salt in the bowl of a mixer and blend (or pulse) to combine. Add the butter pieces, and combine until all of the ingredients come together. Sprinkle with the water, and pulse until the dough comes together. If the mixture is dry, add a touch more of cold water, and mix until the dough just comes together.
You can also do this by hand if you like.
Additional Ingredients to Prepare the Galette
2 cups of Wyman's mixed berries, defrosted
1 egg
2 tablespoons of lemon juice
Plus whatever toppings you like: crushed almonds or pistachios, powdered sugar, whipped cream, or ice cream.
Make the Galette
Preheat oven to 375 degrees Fahrenheit. Roll out the dough into a large circle. Galettes are very forgiving so the circle doesn't need to be perfect. Add the frangipani to the middle of the circle, leaving about an inch all around. Top with the berries. Squeeze lemon juice over the fruit. Fold the dough into the circle to make edges (like you see in the photo). Whisk one egg and brush it onto the edges of the dough. Sprinkle about 1-2 tablespoons of sugar over the entire galette. Bake for about 25 minutes or until edges are golden.
Let the galette cool for about 5 minutes, then sprinkle with crushed almonds or pistachios
Dust with powdered sugar. Then serve as is or with ice cream, whipped cream—or both!
I hope you like these recipes from Wyman's. For more recipes and ideas, visit the Wyman's 

web site.