"Cooking for the ones we love is the greatest proof of love."
—Anne-Sophie Pic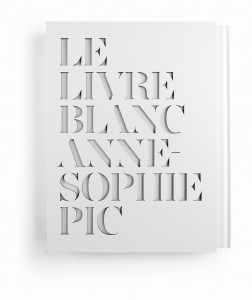 Cookbook lovers, I have a new recommendation for you: Le Livre Blanc, a sleek, gorgeous, minimalist, all-white cookbook from Anne-Sophie Pic.
If you aren't familiar with Anne-Sophie Pic, she is a highly-regarded, award-winning French chef who owns a restaurant that's been in her family for four generations: Maison Pic in Valence, France.
Some of her accolades include:
World's Best Female Chef from Veuve Clicquot
3 Michelin stars for Maison Pic
2 Michelin stars for Restaurant Anne-Sophie Pic in the Beau Rivage Palace Hotel in Lausanne, Switzerland
Best Female Chef from The World's 50 Best Restaurants
Named a Chevalier (Knight) of the French Legion of Honor
Needless to say, Pic's dishes and recipes are outstanding, and her cookbook is an absolute treasure. The book itself is beautiful, from the design to the photography, which is modern and inviting. It could double as a coffee table book, but look within and you'll find unique recipes that will take some special attention to make—but the kind of attention that's well worth it if you love French cuisine that's elegant and modern.
Some of the recipes in Le Livre Blanc:
Peas and Aquitaine caviar
Fresh morels, peas and broad beans
Caramel Gruyere and black truffle
Gariguette strawberries with aged rhum agricole
John Dory with peppermint, truffle shavings and Mallemort asparagus
Beetroot with Blue Mountain coffee cream and tangy barberry
Apricot with caramel crunch and beer ice cream
And this gorgeous slow-roasted chicken with turnip fondant, Medjool date chutney and pepper chicken jus.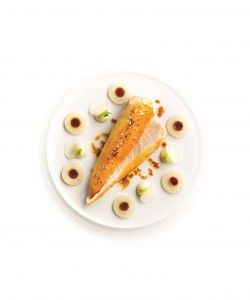 Le Livre Blanc will make a wonderful addition to your own cookbook collection or as a beautiful gift for your favorite food lover.

What's one cookbook you wish you owned? I'd like to send one winner a cookbook of their choice.
In the comments below, tell me the name of the book and why you love it.

I'll be choosing a winner on Friday, December 20th.
My gift to you.