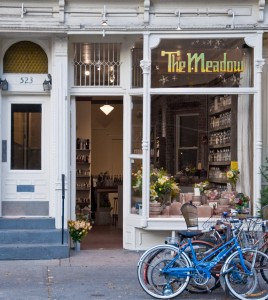 One of my favorite ways to spend an afternoon is to head out in search of ingredients to use in my dishes. Whether I'm surrounded by aromatic spices, strands of homemade pasta, fresh herbs, or honey, I'm constantly inspired by the scents, the colors, the abundance of ingredients.
My visits to these stores resulted in creating an App, iFoodShop: A Food Lover's Guide to Shopping in NYC.
To celebrate, I'd like to share a few of my favorites with you.
Here, in no particular order, are a few of my favorites.
Kalustyans
In search of an exotic spice? A rare ingredient you can't find anywhere? Chances are, Kalustyans has it stocked. This spice store is where chefs come to shop for unique hard-to-find anywhere else ingredients. It's one of my favorite shops and once you walk through the door on Lexington Ave, you might find yourself returning again and again. Things I pick up here: saffron, rose water, vanilla beans, Aleppo pepper, paprika, cardamom and a zillion other things. You'll never make another boring meal after you come here.
New Amsterdam Market
Instead of going out to brunch on Sunday, head down the South Street Seaport and browse the stalls of the New Amsterdam market. Pick up some Finnish Ruis bread, Acme smoked fish, marmalade from Anarchy in a Jar, pickled from Sour Puss Pickles, honey from Bees' Needs, cheese from The Cellars at Jasper Hill or Pampered Cow, and coffee from Pushcart Coffee—you'll have all the ingredients you need for an impromptu brunch.
Murray's Cheese
Cheese, cheese, glorious cheese, from local to around the world. You'll find it all (and more) here no matter what your taste. Not sure what to buy? The cheese mongers will gladly give you a taste—and offer their suggestions. When I come here, I usually grab a blue and a goat, but I'm always open (and pleased) with their recommendations.
Eataly
Love it or hate it, Eataly has an incredible variety of Italian goodies to take home for a weeknight dinner–or to have a party with friends on the weekend. My tip: stop by the case of fresh pasta (made daily) for something other than penne, rigatoni or spaghetti. The produce is incredible. I've taken home some beautiful artichokes, beans and eggplant. If you don't feel like cooking, stop by one of Eataly's restaurants or head up to rooftop beer garden, Birreria, and sip a local beer under the sky.
The Meadow
Who knew salt could lend such different nuances to food? Well it's true. Just ask The Meadow's owner, Mark Bitterman, author of Salt: A Manifesto on the World's Most Essential Mineral. He can easily explain what salt to pair with what dish to bring out the best flavor. But if Mark isn't available (he's usually at his Portland, Oregon store), do what I do: pick up a salt and experiment.
Di Palo's Fine Foods
Oh, how I miss living near this, one of my favorite stores. The ravioli, the buffalo mozzarella, the proscuitto, the Parmesan, the balsamic vinegar…ah, it's so easy to throw together a mini feast.
Union Square Greenmarket
It can be a mob scene, especially at lunchtime or on the weekends, but I still love coming here to see what local farmers are selling. I usually leave with a lot more than I intended. There are times I've come for a few vegetables and I've left with honey, plants, tomatoes, herbs, cheese and my daughter's favorite bread, sourdough rye with caraway seeds from Bread Alone.
Titan Foods
My ex is Greek and he's the one who introduced me to this wonderful store in Astoria. Come here for olives, feta cheese, yogurt and Greek desserts like galaktaboureko (my favorite) and the ubiquitous baklava. You can also find Greek beauty products, tea, grains, jams, phyla dough and other goods from Greece.
Roasting Plant
I know I've gone on and on about my favorite coffee here on The Busy Hedonist, but I'd feel terrible not telling you about my absolute favorite place to buy coffee beans. As soon as I start running out, I head right over to Orchard St (just below Broome) for a pound of their "Block Party" blend that I make in a French Press. I can hardly start the day without it, it's that good.
Boggarti's Ravioli & Egg Noodles
This old-school shop is worth a visit to the Bronx. (Just don't come on a Sunday when it's closed.) Come here for the homemade pasta—made the same way for 75 years!—including ravioli, manicotti, squid ink pasta, whole wheat pasta and fresh egg noodles. Once you step foot in here, you'll never buy a supermarket brand again.
Find the Stores
Kalustyans
Murray's Cheese
New Amsterdam Market
Eataly
The Meadow
Di Palo's Fine Foods
Union Square Greenmarket
Titan Foods
Roasting Plant
Boggarti's Ravioli & Egg Noodles
To discover more food shops in NYC, visit iFoodShop.
What are some of your favorite food stores where you live? What inspires you to cook? Tell me in the comments below.