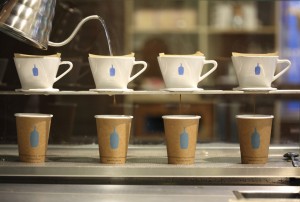 My mother, the queen of routine, would be shocked at this news: For the free spirit that I've always been, I recently began embracing routine and have been enjoying my new-found love of structure (well, within reason).
Why the change? Well, I am a mom of a darling daughter who just started Kindergarten. For my life to flow peacefully, it must have some guidelines.
While I enjoy all that I am doing: writing, rewriting (a book), editing for clients, whipping up new recipes for magazines and customers, I can't just "do" whatever I want, whenever I want, the way I used to. Being a mom who creates my own work…it's imperative to be organized—those days of working around the clock are over. (And one way I keep organized is by creating menus for each week. Seriously, it saves time and chaos at dinnertime.)
When I am with my dear daughter, I devote my time to her. There are parts of my work I can do when we're together: visiting food shops for recipes I create and cooking (and she likes to help, which is nice). Other aspects of my work can only happen when she's at school.
Now that she has a regular schedule, so do I. This is when I embrace my work and some solitude, and what better place do this than in a café. I get to escape any chores I have to do at home (and there are always so many), and I can get lost in my own head for bit, which I've found is a necessity to my well-being. For many reasons, being in a cafe feels like taking a step away from my everyday life, and it's where I tend to churn out the best work. It's freeing, within a time-frame, which suits my current lifestyle perfectly.
Do you like going to cafés to escape for a while…or to meet up with friends? What are some of your favorites?
+++++++++++++++++++++++++++++++++++++++++++++++++++++++++++++++++++++++++++++++
Here are a few cafés you might like if you're in NYC or planning on visiting.
Step in, sip a great cup, read a book, daydream, hang out for a bit or work. It's all possible at these cafés.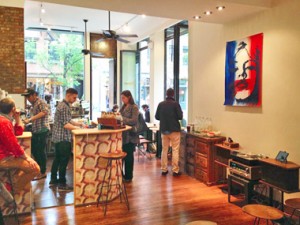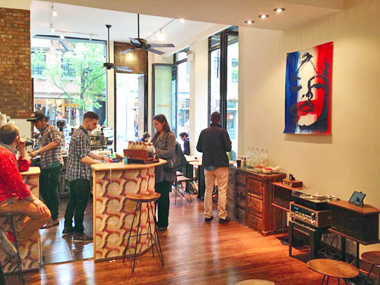 Whynot Coffee
Whynot opened this past spring—and it's the kind of place you can chill for several hours. With coffee from Blue Bottle, pastries (macarons, croissants, etc.) from Mille-Feuille, free Wifi, artwork on the walls from Jeremy Penn and best of all—a good old-fashioned record player with a slew of albums,including Nina Simone, Edith Piaf and Jeff Buckley—it's welcoming, warm and cozy in that Parisian kind of way. Whynot will soon serve wine, so you can stop in during the early evening for a glass of wine. And stay tuned for for their next location on the Lower East Side. If you're into celebrity sightings, you might see Daniel Day-Lewis, Jennifer Aniston or Cameron Diaz ordering their daily fix.
Whynot Coffee is located at 14 Christopher Street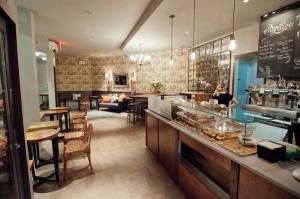 PressTea
Press Tea is a stylish spot—shades of gray with touches of gold—where you can order a tea that's pressed in an espresso maker. The tea leaves are ground in such a way that they work well in the espresso machine, which makes a stronger, more flavorful cup. And there's this créme, which they created exclusively, called Mont Blanc. A dollop of sweet, salty, creamy goodness on top of your tea makes for a dreamy cup. They also have a variety of fruit infusions for their teas, whether you opt for iced or hot—the possibilities are endless, plus Wifi, quiche, cakes and a view of passersby on Seventh Avenue South.
PressTea is located at 167 7th Avenue South between Waverly Place + Charles St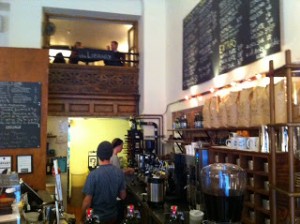 Birch Coffee
Birch Coffee is a cozy place that serves Rainforest Alliance farm-to-cup coffee, a menu featuring local food (salads, cheese, bread and more) plus local beer and wine. The owner of Birch Coffee lives and breathes being "green," believing it's not just a trend but the way we ought to live—and each and every element from the coffee to the decor has taken sustainability to heart; they even received a LEED silver certification.It's one of those places where you can hang out and work while you enjoy a special cup of coffee.  And another highlight: the 27th Street shop has a library upstairs with a sign that reads: Take a book, leave a book, or just take a book.
Birch Coffee has three locations: 5 East 27th St, 56 7th Ave + 750 Columbus Ave