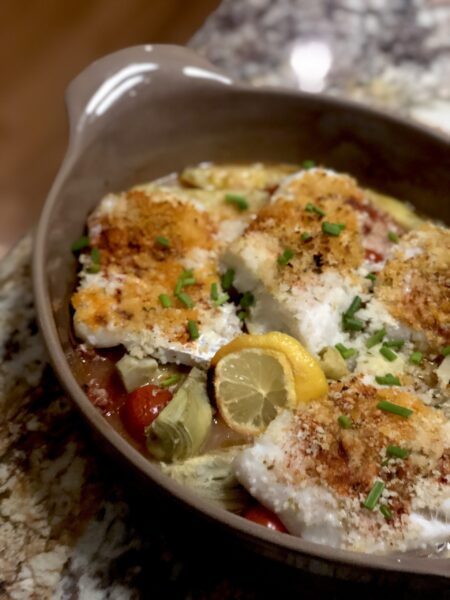 Grab a baking dish, some fresh cod and a can of artichoke hearts and dinner is almost done. That's how easy a dish like is to make. And you can use another fish of you like and skip the artichokes and add other ingredients like olives, capers, tomatoes. Add wine or add broth. Or even just some water. Sprinkle on some lemon or orange zest or make it spicier with some cayenne pepper. It's up to you. What I mean to tell you is that baked fish is a super versatile dinner idea in which you can mix things up according to your taste buds, but here's one specific recipe to get you started.
Baked Cod with Artichokes
Ingredients
1 can of artichoke hearts
1/2 cup of cherry tomatoes (or 1 large tomatoes, chopped)
1 lemon, sliced
1-1 1/2lbs of fresh cod, cut into 4 pieces
3/4 cup of white wine (or stock or just water)
Olive oil, to drizzle
Salt and pepper, to season (about 1/2 tsp of each)
1/2 cup of Panko (Japanese bread crumbs)
1 tsp of paprika (or cayenne
2 tsp of oregano (or another dried herb you like)
2 teaspoons of garlic
2 tablespoons of butter, cut into 4 pieces (optional but I like the flavor it adds)
Fresh herbs, scallions, or chives (optional)
Make the Dish
Preheat oven to 400 degrees Fahrenheit. In the bottom of a baking dish like this one from Mauviel or this one from OXO (or even an oven-proof pan will work), scatter the artichokes, tomatoes, and lemon slices. Place the cod on top. Pour the wine over the fish. Drizzle with olive oil. Season the fish with salt and pepper. In a small bowl, combine the Panko, paprika and oregano (or another dried herb that you like). Place this mixture on top of the fish. It's okay of some of it spreads onto the artichoke/tomato mixture. Place a piece of butter on each fish. bake in the oven for 10-12 minutes. For the last minute I like to broil it to give the crust some extra crunch. Top with some fresh herbs, scallions, or chives.
Need a new kitchen product? Check out my recommendations on my Amazon Influencer page.