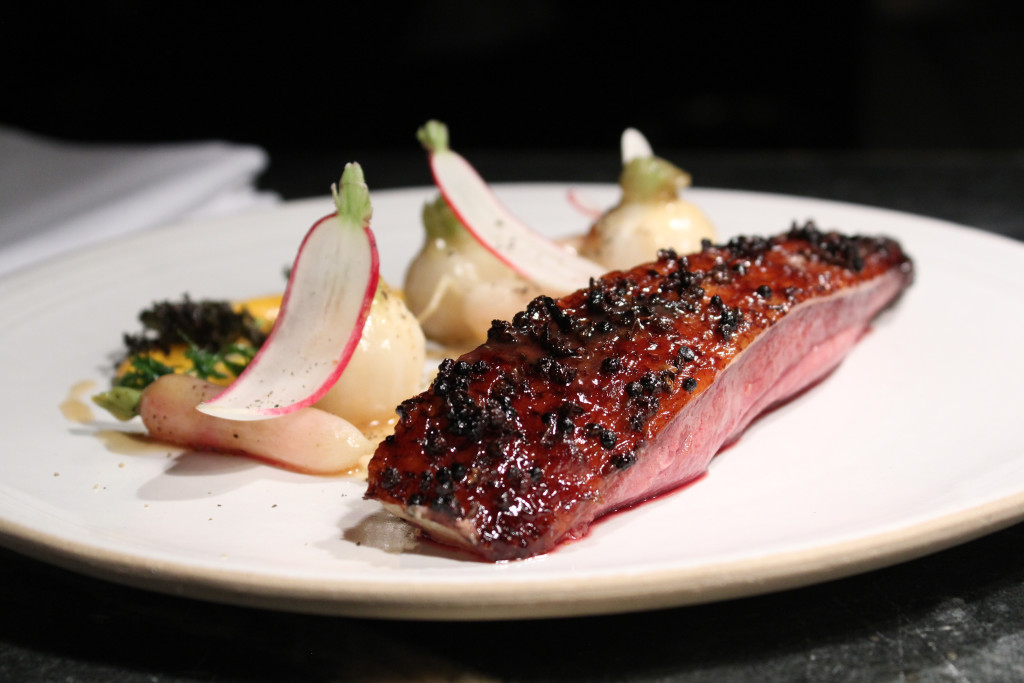 "Love Birds" in Flight at Chefs Club
275 Mulberry Street
"Birds mate for life" is the theme at popular Chefs Club in Nolita, so be sure to come here with someone you love. For Valentine's Day, the special "Love Birds" menu from culinary director Didier Elena features a $90 prix fixe for people who love each other—and love a good bird. Each guest will receive a complimentary glass of Billecart Salmon
Appetizers:
Egg in a jar with champagne sabayon float and chicken cracklings
Foie gras stuffed triple-bird ballotine with red cabbage relish, quinoa, and apple
Main Course:
Lacquered Szechuan duck with dates, radishes, and peppercorn sauce
"Chicken of the Sea" aka Tuna with red chermoula and chick peas
Dessert:
Ile flottante with pistachios
"Bird's Nest" Meringue with passion fruit sorbet
*
Lobster, Cherry Blossoms, Black Truffles at Toro from chefs Ken Oringer and Jamie Bissonnette
85 10th Avenue
If you like Spanish flavors and an eclectic menu, reserve your table at this Barcelona-style restaurant that serves a mix of traditional and modern tapas from two James Beard Award winning chefs: Ken Oringer and Jamie Bissonnette.
For Valentine's Day, Ken and Jamie are offering a selection of decadent and romantic dishes, including:
Scallop crudo with citrus, pistachio and cherry blossoms
Oysters en escabeche with a vibrant pink strawberry verjus
Lobster and black truffle cavatelli
Pudin de chocolate with Concord grape butter and peanut jam
*
Pomegranates for Valentine's at Almond in Tribeca and Flatiron
Tribeca: 186 Franklin St
Flatiron: 12 East 22nd St
Pomegranates symbolize love and fertility and chef Jason Weiner has made sure all the dishes on the Valentine's menu include this beautiful red fruit. Diners can also order from the regular menu.
Appetizers:
Iced Montauk pearls
Warm purple yam salad
Middles:
Lobster and truffle ravioli with pomegranate-brandy reduction
Steak tartare with pomegranate mustard
Main Course:
Rack of lamb with pomegranate molasses
Roasted black sea bass with pomegranate-ginger gastrique
Dessert:
White chocolate and pomegranate layer cake
*
A Love Letter to the Cow at The Breslin Bar & Dining Room
16 West 29th St
The Breslin Bar & Dining Room is celebrating Valentine's Day with a love letter to the cow. The prix-fixe dinner menu is inspired by classic steakhouse staples, and includes:
Saffron Arancini with oxtail ragu
Beef and beet tartare with dried mushroom and horseradish
Citrus and grilled beef tongue salad with dill, sour cream and rye
40-day dry aged prime rib with lobster, smoked potatoes and herb butte
Baked Alaska with sour cherry and dark chocolate
*
Beer Pairing at Lupulo
835 Sixth Avenue at 29th Street
If you and your loved one enjoy sipping beer together, you'll enjoy the pairings at George Mendes' rustic Portuguese restaurant, which is serving dishes to share along with accompanying selections of beer.
Dishes to share include:
Porterhouse for two
Grilled whole red snapper
Four oysters with uni and smoked caviar