Don't you just love when you come upon something new to eat or drink?
It happens to be one of my favorite pastimes, so my ears perked up when I heard the words tea-infused wine.
The lovely people at Tattle Tea, a company I've been talking about on Twitter + Facebook, have been adding blends of tea and other ingredients to wine, both red and white—with phenomenal results.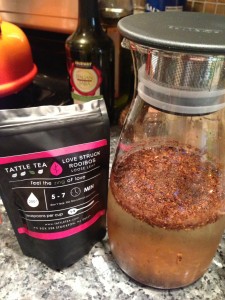 For white wine, they suggest Love Struck Rooibos, which is a blend of Rooibos tea, hibiscus, ginger, lemon peel, orange peel, blue corn flowers. Wow. It's bold, slightly sweet and adds zing to the wine. It's available on Tattle Tea.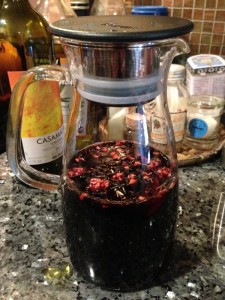 For red wine, they created a blend that includes: assam, darjeeeling, red robe oolong, ginger, lemongrass and apple pieces. Tannins, ginger, apple…this certainly makes a sultry glass of red wine. It's not yet available on their site, and I was excited to be one of the first to taste it.
To make the tea-infused wine:
Simply combine 7 teaspoons of the tea blend with a corresponding bottle of wine to an iced tea pitcher that has a filter, like this one from For Life. Steep in the refrigerator, then "let the magic" happen as tea guru Anthony Borthwick of Tattle Tea suggested.
I drank some while cooking dinner (fun, fun) but you could make a batch when friends are coming over or drink while nibbling on this tea-infused pound cake.
++++++++++++++++++++++++++++++++++++++++++++++++++++++++++++++++++++++++++
If you prefer to skip the infused wine and sip some tea, Tattle Tea sells hundreds of classics, as well as unique blends, like Maple Bacon Chai (a smoky, sweet blend), Acia Berry Oolong, Indigo Mango Black Tea, Italian Princess Green and Zombie Cure Black tea, which is so interesting you'll have to read about it on Tattle Tea's site.
I have an entire cabinet dedicated to tea and Tattle Tea is my latest addition, and with good reason. They're teas are carefully picked and blended, and they're philosophy is certainly on par with mine: They want to de-mystify tea. It's not fancy and complicated like some people think. "It's just leaves + water."
And added to wine it's a magical drink.