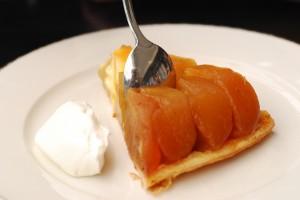 If you're looking for a new way to cook with apples, why not try a French version that was created by mistake.
Here's an excerpt from my post on Dean & Deluca's Gourmet Food Blog:
My first job was at a 4-star French restaurant in Boston and one of my most vivid memories of working at Maison Robert was the tarte tatin that sat in full view of all the diners, enticing anyone who walked by to order it for dessert. It was kept warm on some sort of hot plate, waiting to be topped with chantilly cream.
Click here to read more about Tarte Tatin and for the recipe on The Gourmet Food Blog at Dean & Deluca.