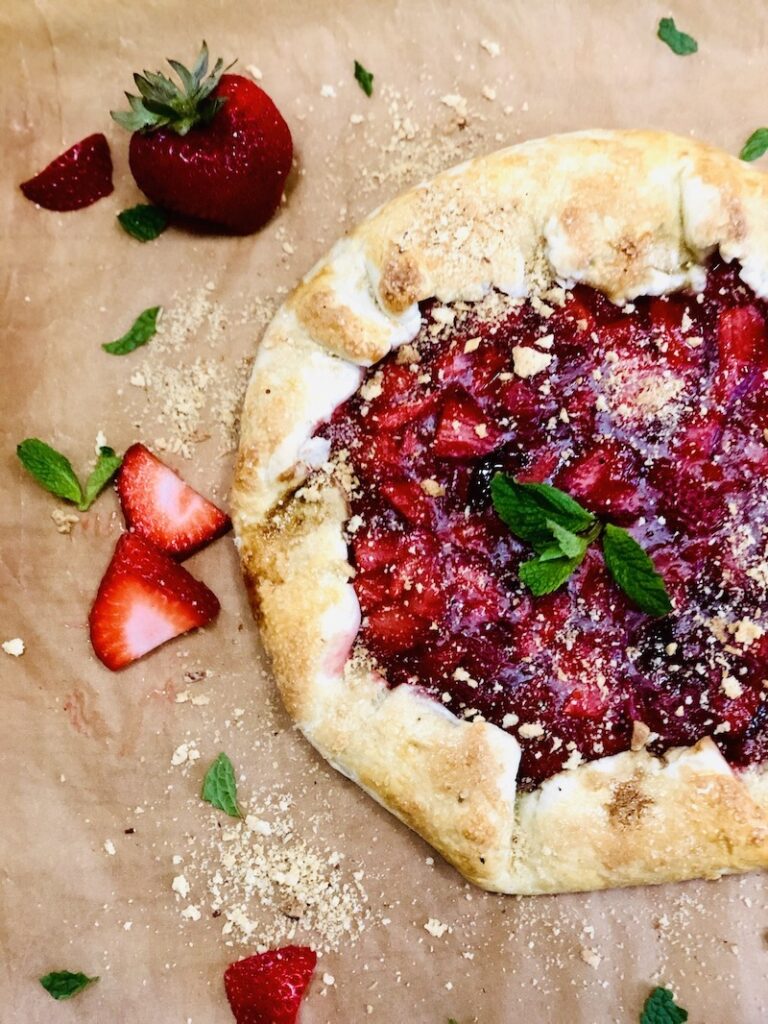 Strawberry-Rhubarb Galette
Strawberries and rhubarb are one of those perfect summer combinations—and when made into a rustic galette it's also a swoon-worthy dessert. A galette is basically a free-form pie, which means it's easy to make because you don't need to worry about the crust being perfect.The sweet and tart flavors of the strawberries and rhubarb are balanced with your choice of sweet cream: ice cream, whipped cream, or sweetened sour cream.
Make the Galette Dough
I used to be nervous to make pastry dough, thinking I couldn't doit. But making dough for a galette is truly so easy to do that you'll wonder why you don't make it more often. Since I've never made dough for a galette I used this galette dough recipe from Kroll's Korner. But I am adding it here, too.
You'll want a food processor like this one though I used my KitchenAid mixer (with the flat beater attachment), which worked just as well.
Makes enough for 1 galette
1 1/2 cups all-purpose flour
1 Tbsp. sugar
3/4 tsp. salt
1 1/2 sticks cold butter (3/4 cup)
4-5 Tbsp. ice cold water
1 egg, whisked with a tablespoon of cream or whole milk (to be used once you're ready to bake the galette)
Pour the flour, sugar and salt in the food processor. Pulse a few times to combine. Add in cubed butter and pulse again until butter pieces are the size of peas.

Slowly stream in the ice water, 3-4 Tbsp. should be enough for the dough to come together. 5 Tbsp. water max.

Remove the dough from the food processor and place on a clean, floured surface. Roll/form the dough into a ball and slightly flatten into a disk.

Cover in plastic wrap and place in the fridge for 30 minutes – 1 hour.

Meanwhile, make the strawberry-rhubarb mixture below.
Make the Strawberry-Rhubarb Mixture
1 pound of strawberries, sliced
2 stalks of rhubarb, sliced
1/3 cup of sugar
2 tablespoons of corn starch
1 tablespoon of vanilla
the juice of 1 lemon
Combine all the ingredient in a bowl and stir. Let rest for about 30 minutes.

Once the dough is chilled and you're ready to make the galette, preheat oven to 350 degrees Fahrenheit.Roll the dough out on a floured surface into a 12-inch round about 1/8-inch thick. Mend any cracks or tears by pressing them back together with your fingers or use a knife to make clean edges.

Use your rolling pin to roll the flattened dough onto the pin so you can transfer it onto a sheet of parchment paper on your baking sheet. Add the strawberry-rhubarb mixture to the center of the dough. Take the outer edges and fold them over about 1/2-1 inch (see photo above). Brush the outer edges of the dough with the egg.

Bake in the oven for 35-40 minutes, or until edges are crisp.
Serve the strawberry-rhubarb galette with vanilla ice cream, whipped cream, or a dollop of sour cream sweetened with powdered sugar. You may also want to toss some crushed nuts over the galette for added crunch.