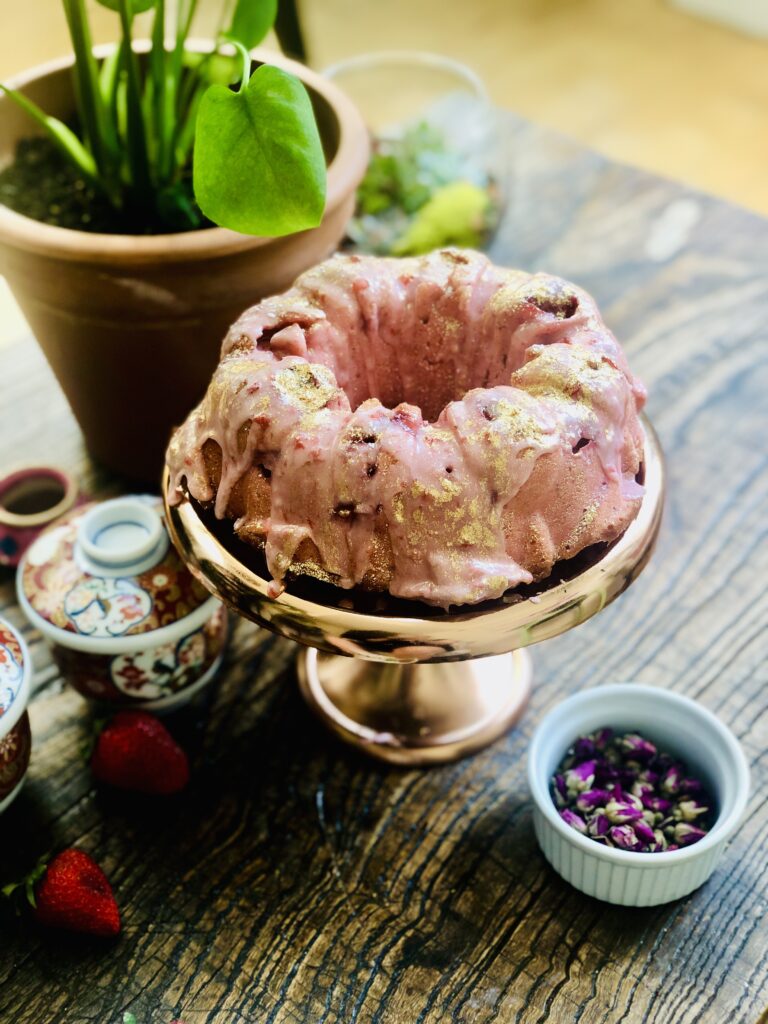 Enjoy this pretty-in-pink cake next time friends come over
This pretty pink strawberry cake is light, sweet, and slightly tangy with the addition of sour cream. Serve with  fresh strawberries and whipped cream, if you like. Bake it as I did in a silicone mold or you can use a regular round or square cake pan.
While I used fresh berries for this strawberry cake, you can certainly use frozen ones, too, but be sure to let them defrost. This cake is meant to be baked in a single layer cake pan, but I made it in this pretty Tulip Bundt Silicone baking mold, which I got from NY Cake & Baking, which is located on West 22nd between 7th & 8th Avenues in Manhattan. It's a wonderful store that sells everything you need for baking and making beautiful cakes. If you like to bake, it's a must visit.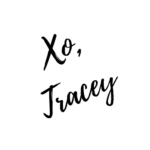 Strawberry Cake
1 1/4 cup of fresh strawberries
1 1/2 cups of flour
1/4 teaspoon salt
1 teaspoon baking powder
1/4 cup of sour cream
1/2 cup unsalted butter (I often bake with President butter), at room temperature
1 cup of sugar
2 teaspoons pure vanilla extract (I usually use Nielssen-Massey)
2 egg whites
1 egg
1/2 teaspoon of pink food coloring (optional)
1/4 cup milk
Preheat the oven to 350 degrees Fahrenheit.
Butter and flour the cake pan you are using.
Cut the tops off of the strawberries then in a blender or food processor, blend until smooth. This mixture will be used for both the cake and the icing.
In a medium bowl, whisk together the flour, salt, and baking powder.
In another bowl, combine the sour cream with 1/3 cup of the strawberry purée.
In a stand mixed, use the paddle attachment, and cream the butter on medium for several minutes until the butter is fluffy.
Add in the sugar, 1/4 cup at a time, and continue to blend until combined.
Add vanilla then the egg whites, and blend, then the whole egg, and continuing to blend until it's all combined.
Next, add sour cream/strawberry purée mixture and food coloring, if you are using it.
Lower the speed and slowly add in the flour.
Lastly, add the milk and blend until it's incorporated. Remove the bowl from the stand mixer and stir to make sure the batter is all combined.
Add the batter to the cake pan.
If you're using a mold like the Tulip Bundt silicone baking mold that I used, bake for about 40 minutes (possibly longer). You can also use a single cake pan, in which case you'll want to bake it for about 30 minutes. But every oven is different so insert a skewer to determine if the cake is done. If it comes out without batter on it, then it's done.
Once it's ready, remove from oven and let cool for 15 or more minutes. Remove from the cake pan, then let cool for an additional 20 or so minutes before icing it.
For the icing: Combine 1 tablespoon of strawberry purée with 1 cup of powdered sugar. Mix and then add about 1 tablespoon of milk. Add more sugar or milk to achieve desired consistency, such that you can drip it over the cake without it completely falling off. You'll know when you achieve the right consistency. And if you don't, well, the cake will still taste good.
Next decorate it however you like. I dusted it with powdered sugar and gold edible disco dust from NY Cake & Baking.