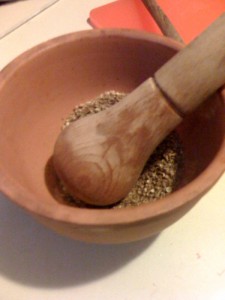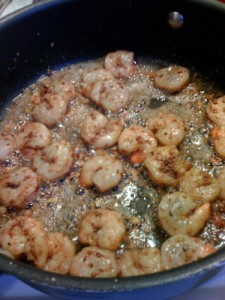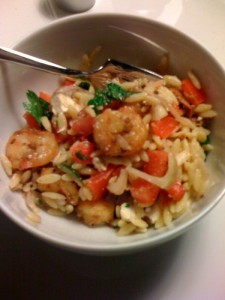 When I see cumin and coriander in the same recipe, my taste buds immediately perk up. These two distinctive spices can alter a mundane dish, making it more appealing to those of us who like more complexity. Take, for example, this recipe for shrimp orzo salad. Standing on its own, with the shrimp simply sautéed, it would certainly be a crowd-pleaser. But when the shrimp is cooked with garlic and the toasted/crushed spices, the dish takes on a whole new identity, albeit a more exotic one.
I was inspired to make this salad (and adapted it to my own taste) after watching A Lyon in the Kitchen on The Discovery Channel. Not knowing what the show was about, and thinking perhaps it might have something to do with Lyon, France (a wonderful food destination in its own right), I set my DVR to record it. I was pleasantly surprised to see a friendly-seeming host named Nathan Lyon behind the stove. (Is he leonine to fulfill the play on words of the show's title? I'm not yet sure but will be tuning in to watch him again.)
Lyon's viewpoint is on par with mine: cooking with fresh ingredients doesn't have to be intimidating or complicated.  And it's not: this recipe for shrimp orzo salad was easy to follow, and took, at the most, 45 minutes to prepare (most of the time was spent chopping ingredients). This summer instead of the usual potato salad, macaroni salad, or "whatever" salads that populate barbecues, bring this along. I'm sure guests will appreciate a change.
Again, I've adapted this to suit my taste (i.e. did not add cilantro, and also added more feta cheese). Feel free to do the same. 
Cumin coriander shrimp with orzo salad
Ingredients
1 cup orzo

4 tablespoons extra virgin olive oil
1 tablespoon unsalted butter

1 tablespoon cumin seeds, toasted and ground

1 tablespoon coriander, toasted and ground

1 pound shrimp, shelled and deveined

1 garlic clove, minced

1/2 c. pitted kalamata olives, pits removed, chopped

1/3 c. shallot, thinly sliced

1 red bell pepper, diced

2 tbsp chopped fresh Italian flat-leaf parsley
1/2 lb feta, crumbled

1 cup cherry tomatoes, halved

1 tbsp white wine vinegar

1 tbsp lemon juice

Sea salt and freshly ground pepper to taste
In a large pot of boiling, salted water, cook the orzo until done, approximately 8 minutes. Drain and toss with a splash of extra virgin olive oil.
In a large sauté pan over medium-high heat add the butter, 1 tablespoon extra virgin olive oil, the ground spices and the minced garlic. Allow to cook until fragrant, approximately 1 minute, then add the shrimp and toss to coat. Continue to cook the shrimp until fully pink, sautéing periodically for even cooking. Season lightly, remove from the heat, and set aside to cool.
In a bowl, combine together the shallot, red bell pepper, tomatoes, olives, and feta cheese. Season with vinegar and lemon juice. Add the parsley, and the shrimp. Season with salt and pepper.