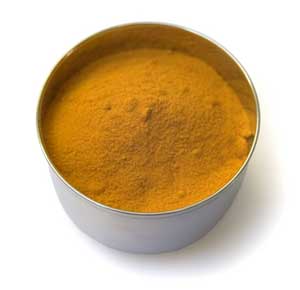 I recently received Fresh from the Garden a gorgeous cookbook by Sarah Raven, which contains tons of recipes I plan on making. I love and appreciate how the book is separated by season, making it easy to choose dishes that utilize the best bounty (and each season has over a hundred recipes, including drinks and desserts). Now that it's spring, I plan on making: Iranian herb & feta salad, Moroccan fish tagine, fava beans in parsley sauce, pea and spinach timbale and lemon and passionfruit meringue pie.
But I started with shrimp korma, because I love the combination of coconut, curry powder, chili and turmeric.
Once you have all the required ingredients required, it's so easy to make this dish. Which is why I love taking time on the weekends to plan meals for the week; whatever I don't have in stock I run out and buy it so that cooking each dish isn't a chore.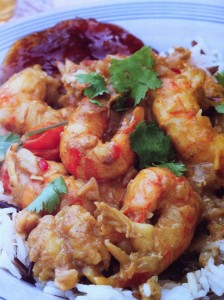 I served this with my daughter's favorite rice: jasmine. Once you try this, you might not to need to order Indian take-out ever again.
Shrimp Korma
Serves 4
Ingredients
2 tablespoons olive or peanut oil
1 large onion, finely chopped
2 garlic cloves, finely chopped
1/4 teaspoon chili powder or flakes
1/4 teaspoon turmeric (and read about the health benefits of turmeric)
1 tablespoon mild curry powder
1 can of coconut milk
1 lb raw peeled shrimp
1 tablespoon dried coconut
1 tsp honey or light brown sugar
Salt + freshly-ground pepper, to taste
Small bunch of fresh cilantro, optional
Make the dish
Heat the oil in a large frying pan or wok and cook the onion and garlic gently for 3-4 minutes (over low-medium heat). Stir in the spices, then add the coconut milk, bring to a boil, and simmer for a further 3-4 minutes.
Add the shrimp, dried coconut and honey and simmer for further 5 minutes. Taste and add salt + pepper if necessary. Snip fresh cilantro over the top as you serve (optional).
For many other fresh, seasonal recipes, take a look at the cookbook: