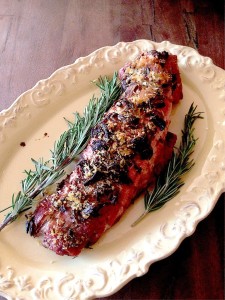 Pork tenderloin is one of those crowd pleasing dishes—and it's oh so easy to make. All you have to do is heat the oven to 400 degrees Fahrenheit, place pork on a baking sheet, and slather some ingredients onto the entire pork. Then roast it for 10 minutes; turn over and roast for another 15 minutes. The result: tender pork and a crunchy crust.
Here are 6 pork tenderloin recipes.You can certainly use these as a jumping off point to add flavors to a 1 1/2 pound tenderloin, which serves about 4.
If you like sweet + spicy
1. Guava preserves and Coffee Rub from Belcour Preserves. Slather the jelly onto the pork and then dust with the rub, being sure to cover the entire pork
If you like rosemary
2. Three crushed garlic cloves, 2 tablespoons of chopped rosemary, 1 tablespoon of olive oil, 2 teaspoons of mustard, 1 teaspoon of salt and some fresh pepper. Combine ingredients in a mortar and pestle and slather onto the pork
If you like maple + mustard
3. One tablespoon of maple syrup, 2 teaspoons of Dijon mustard, 2 cloves of garlic, minced. Combine all ingredients and slather onto the pork.
If you like Asian flavors
4. Two teaspoons of Chinese 5-spice, 1 tablespoon of soy sauce, 2 teaspoons of mustard, 1 inch of fresh ginger, grated, 1 teaspoon of rice wine vinegar. Combine and slather onto the pork.
If you like honey + pepper
5. Two tablespoons of sorrel chutney and 3 or more teaspoons of honey mustard pepper sauce from Belcour Preserves. Combine and slather onto the pork.
If you like Indian flavors
6. Two tablespoons of mango chutney, 2 teaspoons of cumin, 2 teaspoons of coriander (combine spices). Slather the pork with the chutney then add the spices.
Once the pork is done, remove from oven and let it sit for 5-10 minutes before serving.
Kitchen Notes: for pork tenderloin recipes
Belcour Preserves sells some very flavorful jams, chutneys, honeys and spices that pair well with pork.
I go to old school butcher shops to get my pork—and I recommend that you find a butcher near you. They'll cut the exact amount you want.
My go-to places are:
United Meat Market—219 Prospect Park West in Brooklyn
Staubitz Market—222 Court St in Brooklyn
Florence Meat Market—5 Jones St in the West Village