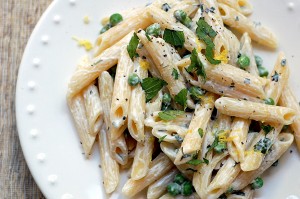 Are you looking forward to spring as much as I am?
It's been a long winter, of snowstorms and cold temperatures, of hearty sauces and mugs of hot chocolate with marshmallows. It's been comforting to hunker indoors with my daughter, painting, cooking and enjoying our weekly pizza and a movie Friday night. I enjoy each season when it's here, but I must admit that I am looking forward to Spring—no more boots, coats and stepping in muddy, snowy puddles while crossing the street.
Spring starts officially in a week, but don't let that stop you from using spring ingredients.
KITCHEN NOTES
Mint: When spring rolls around, I love using chopped fresh mint in a variety of dishes. I don't have a garden, so I pick it up at the Union Square Greenmarket.
Cheese: I used La Tur cheese from Murray's Cheese. It's a creamy blend of cow, goat and sheep milk.
Music: Beautiful Day by U2 or Happy by Pharrell
++++++++++++++++++++++++++++++++++++++++++++++++++++
Penne with peas, mint + lemon
Ingredients
1/2 pound of penne
1/2 pound of peas
1/2 cup olive oil
2 teaspoons of lemon zest
2 teaspoons fresh mint, chopped (you can use scissors and simply snip it over the bowl)
2-3 ounces of fresh goat cheese (or a blend of soft cheese that you like, as I used above)
Sea salt + freshly-ground pepper, to taste
Make the dish
Cook pasta according to package directions. After about 5 minutes, add peas and continue cooking for about 3 more minutes.
In a large bowl, combine olive oil, lemon, and mint. Crumble the goat cheese and add into the lemon mixture. Drain pasta and peas—and reserve 1/2 cup of pasta water.
Add the pasta and peas, and water to the goat cheese bowl. Toss to combine. Season with salt and pepper and garnish with fresh mint.