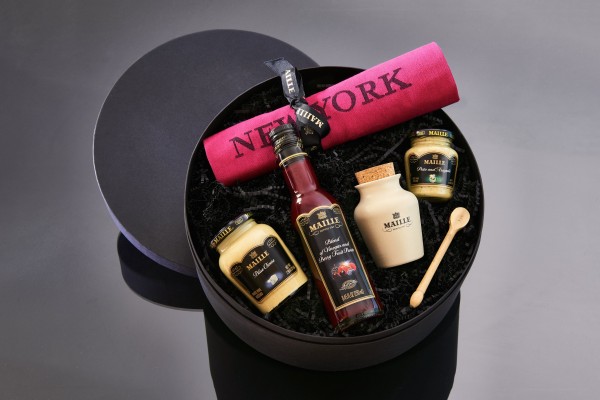 Maille Mustard Gift Set Featuring NYC-centric Products

Mustard is one of my favorite ingredients. I use it in salad dressings. I slather it on meat. I mix it with herbs and spices for marinade and I eat it as a condiment. Needless to say I was excited when Maille, a famous French mustard store, opened up in New York. Walking into Maille is a mustard-lover's paradise, especially to taste (and take home) their mustard on tap, but also their wide variety of flavored mustard.
If you know someone who loves mustard (and loves NYC), I want to recommend this new, limited-edition set. Each item has been carefully chosen to be paired with an iconic NYC food. Of course you can pair these ingredients with other dishes, too. I've made some suggestions.
The set includes:
Dijon Originale with White Wine—this fresh-from-the-tap mustard can be paired with sausage or even a NYC hot dog. I like serving it with smoked salmon and cornichons as well.
Blue Cheese Mustard—pair with a soft pretzel or use as a dip for flatbread along with fruit and cheese.
Pesto and Arugula Mustard—mix with cream cheese and schmear on a bagel, combine with a high-quality olive oil and garlic for a stellar salad dressing, or serve on your favorite sandwich.
Berry Vinegar—drizzle on New York cheesecake, on a berry pie, or over mixed greens with goat cheese.
The Maille Mustard gift set also includes a tea towel featuring well-known and well-loved New York landmarks, plus a wooden mustard spoon. It makes a great gift for someone who love to cook.
Packaged in a chic black hatbox, the set retails for $75 (a $100 value) and is available now exclusively at the two Maille boutiques in NYC: The new U.S. flagship boutique at 927 Broadway at 21st Street as well as at the original NYC boutique in Lincoln Square at 185 Columbus Ave at 68th Street.