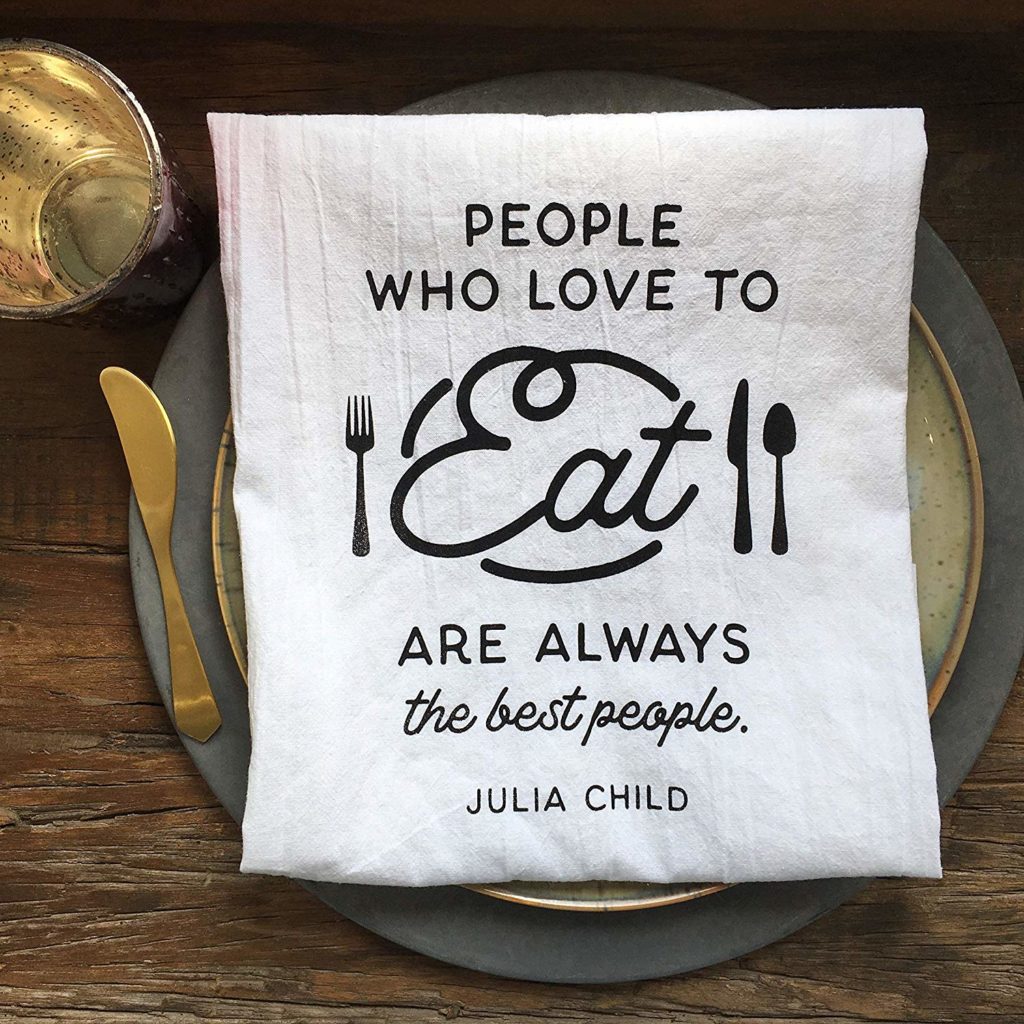 What to get the food lovers in your life
Julia Child said it best, that people who like to eat are the best people. If you have any food lovers in your life (and I mean, who doesn't?), here are some gifts sure to please their palates. Buy a bunch and bundle them together for an extra special gift.
There are those who use any old olive oil when cooking, and those who appreciate a special bottle, like one from Enzo or Frankies, a restaurant in my neighborhood. I'd honestly be in love with a gift that included salt from Jacobsen Salt Co. (not a weird gift, I promise) or a bottle of vanilla from Nielsen-Massey or their Tahitian Pure Vanilla Paste. Or what about some Black Truffle Mustard with Chablis or this adorable mustard/cornichon set from Maille? Spanish food lovers might enjoy some Manchego and Serrano Ham from La Tienda. One of my favorite ingredients is smoked salt; try this Hickory Smoked Salt. Guittard Grand Cacao Drinking Chocolate, along with a cute mug and some artisanal marshmallows, makes a cute gift for a chocolate-loving child (or adult). Speaking of chocolate…a box is always welcome, don't you think? Marie-Belle makes gorgeous painted chocolates. I also love Kee's Chocolates and if I want to give a fun molded chocolate Li-Lac Chocolates is the place to go. Food experiences make memorable gifts, like the Brooklyn Pizza (or amazing chocolate) tour or a food and drink inspired sailboat ride on a schooner around NYC. Or a gift card from Roni-Sue Chocolates for one of owner Rhonda Kave's amazing chocolate-making classes. Spice lovers will appreciate one of the amazing blends from La Boite.I love the Moruno No. 21 or the Tangier No. 23. Sometimes tea lovers don't buy themselves the good stuff, so why not treat them to Mariages Frere (the Marco Polo Sublime, and Russian Breakfast Tea are my favorites). I find Zabar's, the infamous Upper West Side market, has nice gifts for those who've fled—and miss—NYC. They sell baskets with pastrami, smoked salmon, babka, and bagels. I've been eyeing their catalog hoping someone sends me the smoked salmon basket and a bottle of Prosecco Spumante from Tussock Jumper—oh la la. : ) Who wouldn't love a six-pack of wine, rather than beer? Smith & Vine has a cute bag perfect for filling with six different bottles of wine—and their recommendations are always unique and special. You could serve them in a cute stemless wine glass. What about a special liqueur someone may never buy for themselves? I love The Bitter Truth Violet Liqueur as well as the Golden Falernum. For the baker in your life, how about a Bundt pan or a baking dish like this ruffled one or this rectangular one from Emile Henry. Another idea is either a gift card or a bunch of cool baking tools and ingredients from the NYC Cake & Baking Distributor. It's one of those stores where you'll walk out with way more than expected. One of the best gifts I ever received was a Jura espresso machine (this isn't the one I have but it's similar) and I am always singing its praises. But it's a splurge. Or you could get them a Bodum French press, a coffee grinder, and some beans that will perk them up. And not to be self-promoting, but my cookbook, The NYC Kitchen is available on Amazon and I also have some at home if you'd like to me include a note. Simply email me and I'll get one sent out ASAP.
For other ideas, head over to my Amazon Store: The NYC Kitchen. I've compiled many of my favorite products there.