Fireworks, sparkling wine, sailing on the Hudson River…oh my! What a great way to spend an evening.
Last night, I was sailing on the Hudson River on the gorgeous 105-foot Schooner America 2.0, which is a modern version of a vessel from the 1800s, a replica of the schooner that won the very first America's Cup. I was sipping a glass of sparkling wine from the Hudson Valley, laughing with my friend Jeff, and nibbling Greek snacks from Titan foods in Astoria while the mighty river winds blew through my hair. We spent abut 45 minutes sailing around, eating, drinking, laughing–and enjoying the NYC nighttime skyline. Soon we stopped to watch fireworks illuminate the dark sky and I thought: being out on the water, sailing on the Hudson, eating, drinking, and talking to friends would be a wonderful way to spend the 4th of July.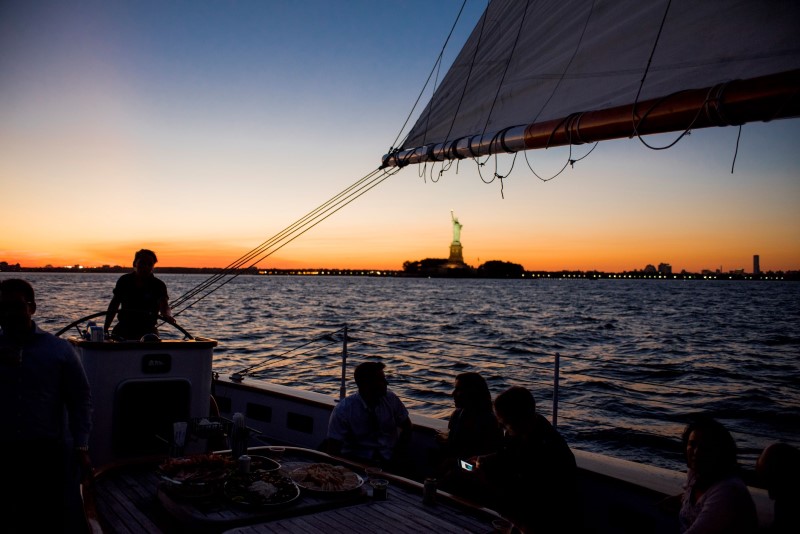 Thankfully, Classic Harbor Line, touted as "not your average sightseeing cruise," offers a special July 4th sailing adventure, complete with open bar, passed hors d'oeuvres, and of course, being a part of the July 4th flotilla of vessels that have up close views of the fireworks. If you can't make it July 4th, other excursions about the Schooner America 2.0 include: Chef Morimoto sushi & sake, Day Sail to the Statue of Liberty, Mimosa Sail, Sunset Sail, plus there are other excursions on different vessels. Some include food while others allow you to bring your own. Either way, you're going to have a great time. Boats leave out of Chelsea Piers and North Cove Marina, which is near Brookfield Place.

Sailing on the Hudson: How to Book
You can book a 4th of July sail on Schooner America 2.0, plus see other sailing excursions here: Sailing Excursions