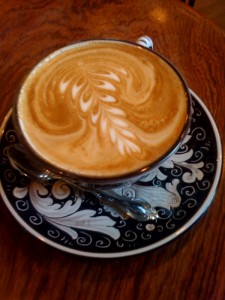 I'm standing in line at La Colombe Torrefaction in Tribeca. The baristas act blasé, as if you're interrupting their coffee break. They haven't taken on the "overly sweet because of the economy" attitude I've experienced elsewhere. No, they just assume people will love their coffee, and indeed they do, as proven by the long line at 2pm. La Torrefaction is not very baby carriage-friendly, but that doesn't bother me, as long as I get some caffeine. I order a latte (and a pear tart), both of which are perfect, and find a seat next to a friendly woman who smiles at Baby S. Ever since having Baby S a year ago, I've become a caffeine addict. Lattes are my drug of choice; I need a couple each day, and I've been walking around New York (all of these are in walking distance to my abode) in search of caffeine. La Colombe and the following are my favorites.
At the cozy Joe The Art of Coffee in the West Village, you may find yourself sitting across from an Oscar winner like Philip Seymour Hoffman or Jessica Lange (as I have), but the real lure here is the coffee. It's rich, creamy and consistent. A large latte gives me exactly the buzz I crave. Although it can be hard to find a seat, there are two benches outside. Either way, you might end up seeing the hilarious Amy Sedaris (sister to David) dropping off her cupcakes.
Roasting Plant became my go-to coffee shop when Baby S was still a newborn, which means the coffee here is potent. Choose from a variety of beans, and then for a dose of science fiction, watch them shoot through a tube on the ceiling, after which the beans are ground to order—i.e. the freshest cup in town. (You can also see and smell the beans being roasted in the Roasting Plant Javabot at the Greenwich Ave location.) With only 4 seats, you'll probably have to get your cup to go. But if you're get there at the right time, and you happen to have your laptop, each seat has an outlet—and there's wireless.
When you feel like you can't make it through the day, or when you need to be up all night, stop by Abraço (which means embrace on Portuguese) for a fix. The creamy lattes at this minuscule coffee shop, whipped up by co-owner/barista Jamie, are all the fuel you'll need to stay alert for many hours. If you're hungry, try two standouts: homemade olive oil cake or the custard fritatta. Since there aren't a lot of seats, this is another place where you may need to take your coffee on the go. But trust me, you won't want to relax while drinking Abraço's strong brew.
La Colombe Torrefaction
319 Church St at Lispenard/212-343-1515
270 Lafayette St between Prince & Houston
Roasting Plant
81 Orchard St between Broome and Grand/212-775-7755
75 Greenwich Ave near 7th Ave
Joe The Art of Coffee
141 Waverly Place (west of Sixth Avenue)/212-924-6750 (other locations, too)
Abraço
86 East 7th St (west of 1st Avenue)/212-388-9731