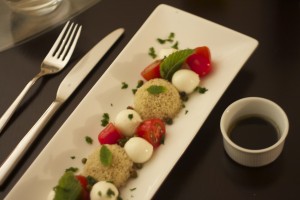 What's your go-to meal for lunch?
Sometimes lunch creeps up on me. That's because I become so engrossed in what I'm doing (a sure sign that I love what I do). For this reason, the day goes by so quickly and sometimes it's almost time to pick up my darling daughter at school.
During the week I don't like to prepare anything lavish for lunch and yet fast food (or what we perceive as fast food) doesn't appeal to me. And, strange as it sounds, I don't like sandwiches so you'll never find me at the deli ordering one for lunch.
Thankfully, I've discovered something wonderful to make for lunch. The best part about it: it's so easy to make. Super fast. And yet it's healthy, too—and incredibly versatile (you can make it as easy or as complex as you wish). It's also something you can make the night before to bring to work.
It's couscous. And not just any old couscous from the supermarket, but Looly's Fine Pearls of Couscous, which is unprocessed and handmade in Morocco.
For a quick lunch you could make couscous with tomatoes and mozzarella, as shown in this video.
Or you can improvise. Last week, I made Looly's couscous that comes with thyme and I added chopped tomatoes, caramelized onions, buffalo mozzarella, pine nuts and a dash of fig balsamic glaze with a pinch of one of my favorite ingredients: smoked salt from The Meadow. The result: a divine lunch.
Another time I made a slightly more elaborate dish, one with some heat from minced jalapeño.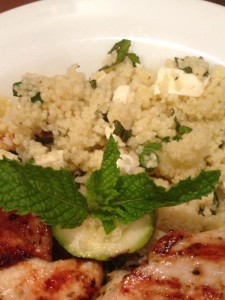 First I made the couscous. You can see how easy it is to make here.
Then I grilled one zucchini by slicing it in half lengthwise and sprinkling it with olive oil and salt. Once it was grilled (about 3-4 minutes on each side), I chopped the zucchini into half moons, and then I made this dressing:
Dressing for couscous
1/2 cup of olive oil
the juice of 1 lemon
the zest of half a lemon (you can use this zester for that)
1 tablespoon of rice wine vinegar
1 garlic clove, minced
1/2 jalapeño pepper, minced (or less if you don't like it too hot)
sea salt
Combine all the ingredients and then pour onto the couscous and combine. Add the zucchini and then add fresh chopped mint and crumbled feta cheese.
If lunch is becoming boring, you might want to add Looly's to your kitchen staples and use it as a canvas for an easy or slightly more elaborate lunch. 
KITCHEN NOTES
You can totally improvise with the recipe above: Other items I've added include crushed pistachios, toasted pine nuts, caramelized onions, chopped grilled chicken, goat cheese, sesame seeds, grilled asparagus, shrimp, lime zest, orange zest, pomegranate seeds and more to the couscous. Add whatever you like—you can't go wrong.
Now that fall is here I am going to make an autumnal version with pumpkin, sage and blue cheese—perhaps this Bayley Hazen Blue from Murray's.
The wonderful people behind Looly's are in the process of having it sold in stores. For now, you can fill out this form and you'll get your Looly's in a week or so. Looly's is so different from commercial couscous that it's worth the wait!