Looking for a a 30-minute meal that's full of flavor? This Roasted Caribbean Pork Loin has a bit of heat, a lot of spice and a sweet-tangy flavor that will have you craving this every week.
What you'll need at a glance
1 1/2-2 lb pork tenderloin
Jerk sauce (I like this Jerk Pepper Sauce from Arawak Farm) but you can easily find one at most markets
Hot pepper sauce for some extra hear (such as Hurricane from Pedro Plains)
Fresh garlic
Fresh rosemary
Do you know what's in jerk seasoning?
It's a pungent blend of allspice and scotch bonnet peppers mixed with some sweet spices like cinnamon, cloves, ginger, nutmeg and brown sugar. It pairs perfectly with pork.
Kitchen Tip
Use a thermometer! I didn't know I was missing out until I tried this Thermapen to achieve the perfect temperature for meat. I got one in purple, and they have a variety of colors, so you can find one to suit you. I swear, once you use this, you'll want to use it all the time. Click the image to find out more (and choose your color!).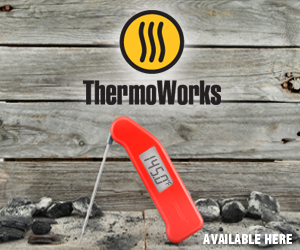 [ultimate-recipe id="6636″ template="default"]