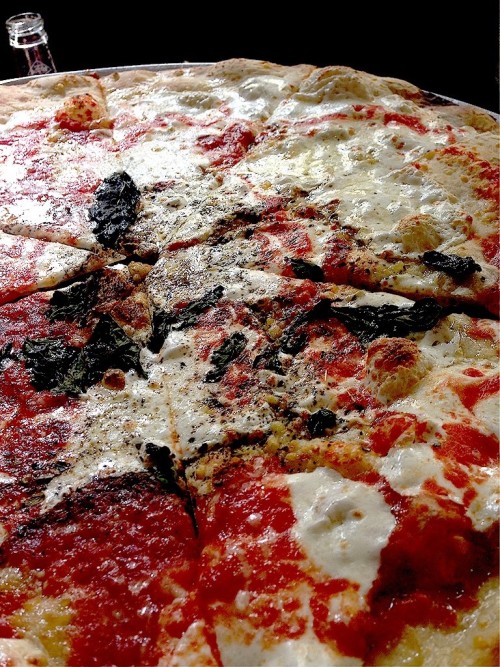 En route to our first pizzeria of A Slice of Brooklyn Pizza Tour, we're crossing the Manhattan Bridge and taking in the quintessential view of the Brooklyn Bridge with the Statue of Liberty standing tall out there in the horizon. It's a site I always admire no matter how often I see it.
"She's facing Brooklyn, in case you didn't notice," says Marc, a passionate Brooklynite and the tour tour guide for the Brooklyn Pizza Tour. Even though I live here, I'm playing tourist in my own city for the afternoon (Eating Brooklyn pizza? How could anyone refuse that?), and I learn a lot from Marc's insightful, and oh-so-humorous, commentary, including:
Where Jim Carrey lives

Where Tiger Woods learned to play golf (who knew??)

Why Elvis came to Brooklyn (and Priscilla was born in Brooklyn)

Where Joe Pesci got made in Goodfellas

The block where John Travolata took his famous stroll in Saturday Night Fever

That famous chocolatier Jacques Torres met his wife in Brooklyn

Who started Colavita olive oil (you'll be surprised)

…and so much more.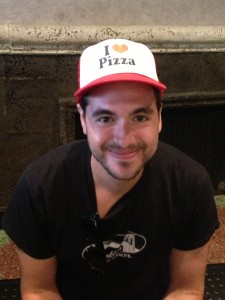 While I love the nuggets of information (you may learn different things from different guides) as well as the accompanying movie clips, both of which add immensely to the tour, I can't wait to eat pizza. Brooklyn, the borough where I live and where this tour takes place, is known for its pizza—and everyone seems to have their favorite places to get a slice or a "pie." On the tour we taste two completely different styles, which are found many miles apart in two disparate neighborhoods: Neapolitan, which has a thin crust and Sicilian, which has a thick crust. Both are, as you can imagine, wonderful in their own ways.
I won't share the pizzerias with you. I want you to discover them on your own when you take the Brooklyn pizza tour. But suffice it to say that one of them usually has lines that snake down the street at all hours of the day (I should know; I drive by it frequently). When you're on the tour you get to skip the long line for one of the best slices in all of New York City. That alone is worth coming on the tour, though I know you will enjoy the entire experience.
Before heading back to Manhattan, we stop at Coney Island. There is no pizza here, but views, revitalized shops, the famous Cyclone and history. It's the perfect place to take a walk after an afternoon of eating Brooklyn's most beloved food.
Visit A Slice of Brooklyn Pizza Tour for more information.