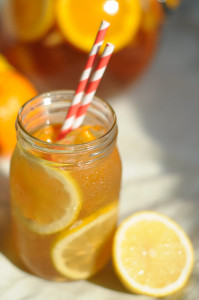 I've been enjoying cocktails up on my roof deck these past few weeks, and thought you'd want to hear about the latest one I tried: a Bourbon Honey Smash made with handcrafted Four Roses Bourbon. It's a classic cocktail shaken with clover honey for a sweet-refreshing-citrusy drink.
If you're going to enjoy this cocktail with dinner, know that it pairs well with spicy Thai dishes, curry, even BBQ—the addition of honey brings out the bourbon's honey notes, making it a nice antidote to spicy dishes. Or if you're having a few friends over, pair the honey smash with some charcuterie. In NYC, I pick up charcuterie at Stinky Brooklyn, Despaña, and Eataly (all of which ship!), though I'm sure you have some great stores near you.
As you can see from the recipe, the Bourbon Honey Smash is super easy to make. Garnish with slices of both oranges and lemons for added citrus. Or even add some mint leaves, if you like.
Go, take a sip and enjoy these last days of summer.
[ultimate-recipe id="6721″ template="default"]