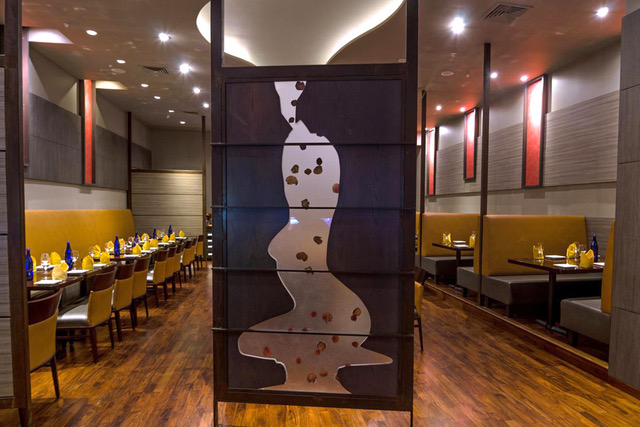 The host greeted us immediately, which is always a good sign, then whisked us over to a lovely booth in Benares' modern, fanciful dining room with its curved lines and swirly furniture. While the lounge atmosphere is befitting for a party, what you will experience is more intimate. Everyone I encountered was warm and welcoming. It was as if I were in someone's home about to have a feast of Indian food, not sitting in a sleek booth at a chic TriBeCa restaurant. I immediately ordered a cocktail, the Lychee Lover, but you might like a Moscow Mule or Varanasi, made of tequila, pineapple, orange liqueur, and chili-laced grenadine. Or sip a glass of Gruner Veltliner or Reisling, both of which help temper the heat of the food.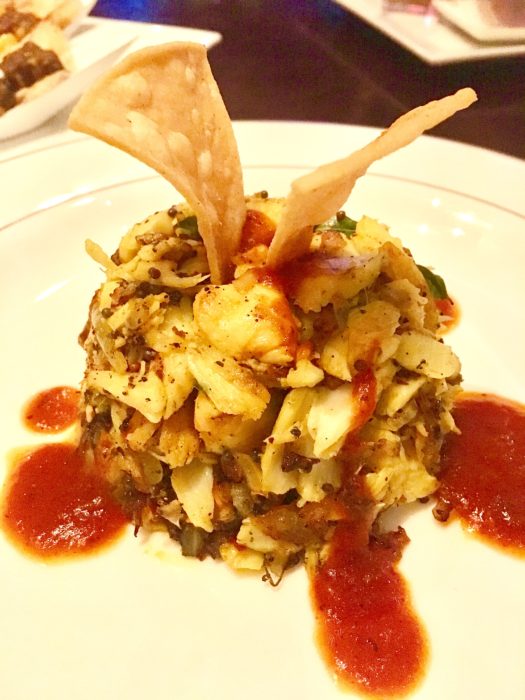 The vast menu is so full of tempting dishes it was hard to choose…peppery sauces, star anise, pomegranates, poppy seeds, nutmeg, curry—the menu is full of wonderful Indian flavors you don't often find at typical Indian restaurants. Perhaps it's because the food at Benares is inspired by all of India—there are dishes from Kerala and Goa, for example—with a nod toward India's 4th largest state, Udder Pradesh, which is home to the city of Benares. The usual Indian dishes are available and listed on the menu, but read in between the chicken tikka masala and lamb vindaloo and you will find some incredible gems, like the crab chettinadu, lump crab with coconut and spices, and the chili paneer, morsels of fried cheese tossed with garlic, ginger, onions, and chilies. Fresh and modern dishes like these make Benares stand out from its counterparts.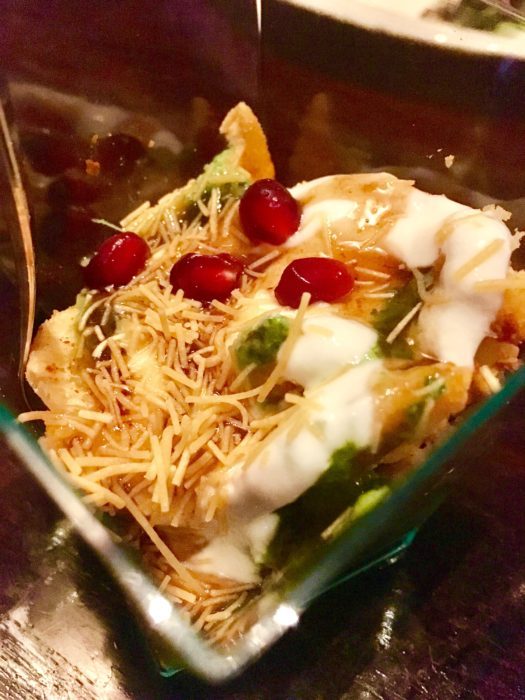 For entrées you will find a variety of lamb, chicken, seafood, and goat dishes along with vegetarian options. A few standouts include Ahi tuna, Grilled lamb chops with spices, Butter chicken, and Goan shrimp curry, all of which you can slurp with the fragrant garlic naan. End your meal with pomegranate-flavored rice pudding, gulab jamun, or the chocolate lava cake that arrives with rose petal pink ice cream.
Here are some dishes I recommend. You can read more about them on Benares' menu:
Adraki Samosa
Garlic Naan
Tawa Scallops
Crab Chettinadu
Aloo Papri Chaat
Chili Paneer
Koli Erachi
Butter Chicken
Benares is open for lunch, dinner, and takeout. The restaurant is located in Tribeca at 45 Murray Street; 212-766-4900