There's no better chef to launch the new "At Home with Chef" series than John Cordova of cozy and charming Home restaurant on Cornelia Street in the West Village.
Here, Chef Cordova shares what's in his kitchen—and he likes to make when he's home.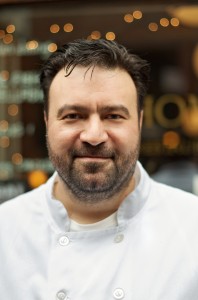 Tracey: Tell us about your kitchen at home.
Chef Cordova: It is actually still new to me; we just bought our apartment in December. The layout is L-shaped, facing the dining room table and off the family room. Next to the table, which seats four, there is a high chair for my 9-month old and a booster for my 2-year old. Four Better Homes and Gardens cookbook covers are framed on the wall; they were inherited from my wife's grandmother.
There is a standard refrigerator, microwave, a gas stove and oven. The exhaust vent is nice because it actually vents to the outside, which helps keep the cabinets grease free. We also have a dishwasher, which is a luxury. Having someone do my dishes at the restaurant is great, but this is the next best thing. My battered and stained pots and pans hang on a rack over a side table with a Kitchen Aid mixer and a broken espresso machine.
Tracey: What ingredients do you always keep stocked?
Chef Cordova: We always have eggs, cheese, bread, coffee, milk, salt, stocks in the freezer, olive oil, Crystal hot sauce, bourbon, lemons and limes.
Tracey: What are some of your favorite kitchen tools?
Chef Cordova: We drink a lot of club soda in our house, so our Soda Stream has become everyone's favorite kitchen tool. We probably drink 2-4 liters of soda water per day and have a lot less plastic to recycle. My 2-year old virtually refuses to drink flat water.
I also have a copper sauce pot I inherited from a restaurant in California.
Tracey: What are some of your favorite meals to make at home?
Chef Cordova: With two young children, our favorite meals to make at home don't require a lot of prep time and provide leftovers for tomorrow's lunch. So we eat a lot of roasted or grilled chicken, often thighs because of their relatively low price and fuller flavor. We pair this with either a salad or pasta dish with added vegetables.
Tracey: Do you have any tips on creating quick dishes for dinner?
Chef Cordova: No, not quick as in, we can eat 30 minutes from now, but maybe quick as in less than 30 minutes of active time. I saw an interview with Ferran Adria where he was asked to explain the main difference between a home cook and a professional. His answer was organization. A restaurant chef has a clear plan of what has to be done and therefore wastes little time. A home cook could learn from this and try to plan their meals in advance. Then they will see ways to combine steps or get several things working at the same time.
Tracey: What's in your refrigerator right now?
Chef Cordova: 5 liters of club soda, 1 liter of formula/breast milk, eggs, whole wheat tortillas, cheddar cheese, milk, duck fat, steaks for the Fourth. Sparkling Rosé.
Roasted Chicken with Lime
6 pieces of chicken (on the bone)
the juice of 3 limes
1 tbs Dijon mustard
1 tbs Spanish Paprika
1 tbs chili powder
1 tbs of Kosher salt (or ¾ tbs if fine salt)
1/3 cup of olive oil
1 pound of pasta or salad greens
Vegetables: Whatever you like, but remember this is the step that can become time consuming. I usually use broccoli, arugula, and cherry tomatoes.
In the morning, when I make breakfast and baby formula and do some dishes, I also marinate the chicken. It's just another 5 minutes added on to my morning chores, and it makes dinner taste better.
In a large bowl, mix the lime juice, mustard and spices. Next, whisk in the olive oil. Finally add the chicken, toss to coat and refrigerate.
About an hour before you want to eat dinner, preheat the oven to 425 degrees Farenheit and put a pot on the stove to boil water. While the water is getting hot, put the chicken, skin side up, on a foil-lined baking sheet with sides. Make sure the chicken is well coated with the marinade and even pour any leftover drippings over the chicken. Later, it will become the sauce. Roast the chicken thighs for about 45 minutes. The skin should be dark and crisp. When they are done, let them rest on the baking sheet for 10 minutes and reserve any liquid.
While the chicken is roasting, blanch some broccoli in the boiling water. Make sure to add salt to the water before you cook in it. It should taste almost as salty as the ocean. Once the broccoli is cooked, remove it to a bowl with a slotted spoon and cool it with cold water. Use the remaining boiling water to cook your pasta, adding more water if necessary.
To complete the dish, add the broccoli, arugula, and tomatoes to the hot pasta and toss with the drippings from the chicken. If too much grease has collected, you can skim some off, but leave at least a tablespoon or two. Now is also a good time to add in some fresh herbs, grated parmesan or adjust the seasoning if it needs more salt or lime. Finally scoop some onto a plate and eat it with the chicken. You can also serve this chicken with a green salad and more vegetables. In this case, you will turn the chicken drippings into vinaigrette by adding a little more lime juice or vinegar if necessary, and whisking in a little olive oil. I also put a couple of red potatoes in the oven with the chicken for the salad version of this dish.
Home/20 Cornelia St/West Village/1-212-243-9579