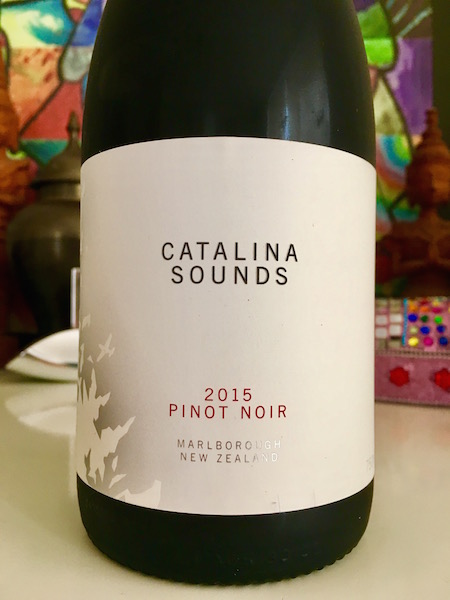 I found an excellent end-of-summer red wine for you: 2015 Catalina Sounds Pinot Noir. Take a few bottles to the beach for a last hurrah or to a dinner party with friends—or simply enjoy at home over a simple summer meal. Which is not to say you can't enjoy this red wine during other seasons because you can, absolutely. It's that I associate it with these last days of August because I enjoyed a glass up on my roof deck along with a bowl of fettuccine and wild mushrooms. It was a divine pairing.
This very lovely (and very affordable!) Pinot Noir hails from Catalina Sounds, a small estate in Marlborough, New Zealand.
I've only recently started drinking New Zealand wine and I'm so glad I have: New Zealand is one of the most ideal places to grow grapes—it's soil, climate and terroir create vibrant and elegant wines (just the kind I love). I think you, too, will enjoy a taste of New Zealand without going there. I haven't been but I hear the landscape, rainforests, mountains and beaches are gorgeous.
With classic cherry, raspberry notes and ripe plum flavors, why not drink some of this Pinot Noir with dessert, too? Perhaps a plum torte or a clafoutis containing berries.
Or, serve a bottle with the mushrooms stewed in wine with polenta from my cookbook or with rack of lamb, or roasted pork…the 2015 Catalina Sounds Pinot Noir with its mellow tannins (swoon!) is excellent with meat.
But no matter how you choose to serve this Pinot Noir, you'll enjoy its silky and elegant qualities.