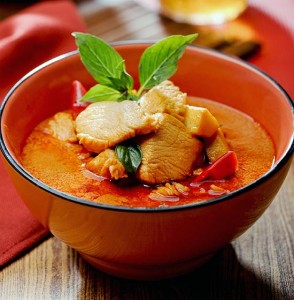 I love Thai food, and while I used to order in a lot, I tend not to anymore. (I just can't seem to find a great place in my new neighborhood.) And for some reason I thought it was daunting to make curry at home. But actually it's very easy.
This is a versatile dish, because you can choose whatever vegetables and protein you like (or make it vegetarian). I made my curry with 2 chicken breasts, and about 4-5 cups total of fresh sliced carrots, cut green beans, sliced red peppers, sliced onion, quartered potatoes and chopped broccoli. And I used these two products from Thai Kitchen, which made things super easy. (I haven't attempted to make own curry paste yet.)
In a skillet, saute the chicken and vegetables in 2 tablespoons of olive oil over medium heat for about 5 minutes, then simmer in 1 can of coconut milk and 3 tablespoons of the curry paste for about 10 minutes. (I also added in one of my favorite herbs: 1/4 cup of kaffir lime.) Serve with your favorite rice (my daughter loves jasmine, so that's what we serve).
It's a super easy dinner if your'e a busy mom and/or busy business owner and don't have a lot of time to cook at the end of the day.
Enjoy!