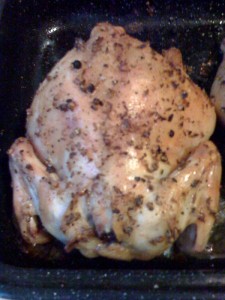 For an elegant yet easy dinner, consider serving Cornish Hens rather than a roasted chicken. Rubbed with my most recent favorite pair of spices (cumin & coriander) the hens are easily perked up. I served mine with an earthy
beet salad
.
Spiced Cornish Hens
Serves 2
Ingredients:
2 Cornish Hens
1 teaspoon coriander seeds
1 teaspoon cumin seeds
½ teaspoon nigella seeds
½ teaspoon peppercorns
½ teaspoon coarse salt
Extra virgin olive oil for rubbing on hens
Cook the hens:
Preheat oven to 450 degrees. Place hens in a roasting pan. Grind coriander seeds, cumin seeds, nigella seeds, salt and pepper in a mortar & pestle. Rub hens with olive oil; then add spices to hens. Roast for 45 minutes or until cooked through. Serve with side dishes of your choice.