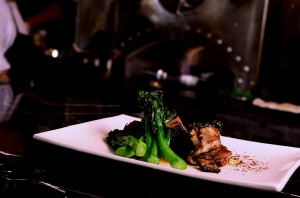 If you love Asian BBQ (and I certainly do) you can now enjoy it with an American twist at Ember Room, which opened in February. Co-owner (along with Todd English) Ian Chalermkittichai shares this recipe for soy braised beef short ribs with us. Read more about Ember Room in my Q & A with Ian Chalermkittichai in Haute Living.
Enjoy!
Ingredients

Shortrib:
8 beef short ribs
2 ounces ginger, thinly sliced
1 ounce garlic, crushed
½ bunch scallions
½ Spanish onion, peeled and thinly sliced
2 oz Shaoxing wine
2 oz Yamasa low sodium soy sauce
1 oz fermented soy beans, soaked in water
Water, as needed
¼ cup canola oil
Sweet Potato
1 Sweet Potato, peeled and diced
1 Tbsp ginger, peeled and chopped
1 oz crystallized ginger
Milk, as needed
Salt, to taste
1 tablespoon butter
Mustard Glaze
2 oz Chinese mustard
2 oz water
4 oz honey
Make the dish
Short Ribs
Clean the short ribs then season slightly with salt and pepper, sear in a roasting pan in hot canola oil until golden brown. Add the mirepoix (ginger, garlic, scallions, onion) to the roasting pan and cook until caramelized. Deglaze with shao xing wine and reduce until thick. Add the rest of the ingredients and braise in the oven until FORK tender (375 F for 3 – 3.5 hours). Remove the meat from the bone, transfer to a sheet pan, then portion into 3 oz. servings
Potatoes
In a medium pot, over high heat, sweat the ginger with butter then add the sweet potato. Then add the milk to cover, and cook until tender. Strain and puree the mixture in the food processor until smooth. Season with salt and add the crystallized ginger and mix with a spoon
Mustard Glaze
In a mixing bowl combine all the ingredients together
Assembly
Spread sweet potato on a plate Arrange 6 oz portions of short rib meat on each plate Pour the sauce over the meat.
Ember Room/647 9th Avenue between 45th & 46th Streets/212-245-8880