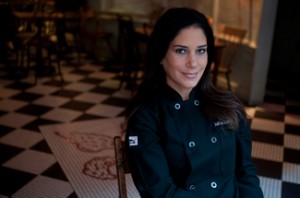 On a recent visit to Los Feliz, I enjoyed, among other things (like some very tasty margaritas!) a sampling of Julieta Ballesteros' ceviche.
Here she shares her recipe for the Robalo ceviche. It's an easy dish to make at home. And if you want to find out more about Los Feliz, check out my interview with Rob Shamlian on Hauteliving.com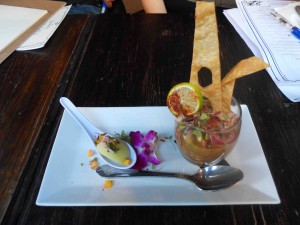 Robalo Ceviche

Serves 4.
Ingredients
1 1/2 cups fresh sea bass fillet, no bones; cut into 1/2" cubes
1/2 cup freshly squeezed lime juice
1/2 cup freshly squeezed orange juice
2 chopped plum tomatoes
1/2 of red onion, chopped
1/4 of a bunch of cilantro, chopped
Salt and white pepper to taste
Make the ceviche
Combine all ingredients in a bowl. Toss and let it chill for 5 minutes. (If you don't have access to the freshest fish, it's best to let marinate for 2 hours.) Serve with a chili rim in a martini glass and garnish with fresh avocado.