What are some ways you use tuna in recipes? Thanks to mercury, gone are the days when I ate a lot of tuna fish sandwiches. But it's okay every once in a while, and I like adding it to to pasta dishes like this one. I love the saltiness of olives + capers together. That combination, mixed with high-quality tuna, Tonnino, makes for a tangy pasta sauce.
I'd love for you to win a few jars of Tonnino Tuna so you can make this dish or one of your favorites that include tuna.
All you have to do is:
Sign up for The Peach (on the right-hand side of this blog)
Extra credit if you "like" The Busy Hedonist Facebook page
Two (2) lucky winners, chosen at random on Monday, February 21st, will receive an assortment of 3 jars of Tonnino Tuna.
Good luck!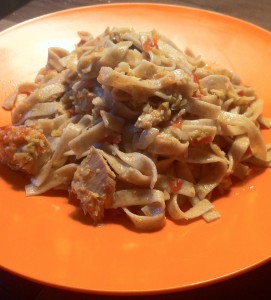 Ingredients
1 pound whole wheat fettuccini (or other pasta that you prefer)
Extra-virgin olive oil, to coat bottom of pan
6 medium garlic cloves, chopped
2 tablespoons capers, rinsed
1/2 cup pitted green olives chopped
1/4 cup roasted red peppers, chopped
(I chopped the ingredients above in a food processor, the Ninja; it took all of 10 seconds, making it a quick dish to make.)
1/2 cup loosely packed, roughly chopped parsley (if you use a food processor, add parsley separately)
1 can Tonnino tuna (I used the one with oregano, but the jalapeno is a good option, too)
Sea salt, to taste
Freshly-ground black pepper
Make the sauce
Cook pasta in large pot of boiling water until al dente. Add olive oil and garlic in a large saute pan over medium heat. Cook until the garlic is lightly golden. Add capers, olives, and roasted red peppers. Cook for about 8-10 minutes. Toss with cooked pasta. Add parsley and tuna. Season with salt and pepper, to taste. Serve immediately.
Remember, enter to win your assortment of 3 jars of Tonnino Tuna by signing up for The Peach.
Extra credit if you "like" The Busy Hedonist Facebook page
To hear more about Tonnino Tuna you may want to follow them on Twitter.