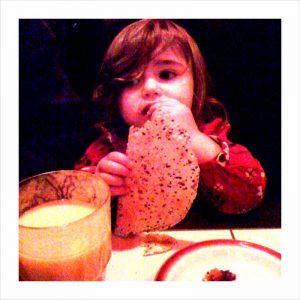 How to feed a toddler? She will not eat carrots, mashed potatoes or apples, typical toddler food. She does not like plain, unseasoned food…even her oatmeal must have cinnamon sprinkled on top. Her chickpeas must be swimming in some sort of curry. No wonder: she is my daughter, all of 2 (almost), and she most certainly takes after me, because I like spices, boldness, flavor. And she is following suit.
We were eating Indian food one night in the East Village. The papadum was quite spicy, but not for her. She munched on it like it was some ordinary biscuit made for a toddler, washing it down with a mango lassi. So I decided to make papadum at home. Goodbye dry, tasteless organic wheat crackers. Hello, papadum!
Ingredients
6 cups of lentil flour
1 tsp freshly-ground black pepper
1 tablespoon ground cumin seeds
1/2 tsp salt
1/4 cup water
Vegetable oil for frying
Make the pappadum
Mix flour, pepper, cumin and salt. Add water and knead the dough until smooth. Add some water, depending on the flour. Split the dough into 10-15 balls and roll out one ball at a time to a very thin round layer on a slightly oiled surface. Dry the papadums in the oven on a cookie sheet for an hour at 175 degrees. Remove from oven then fry briefly in a pan until crispy, but not browned.