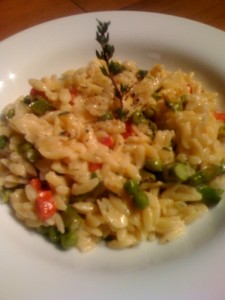 When it comes to the first bounty of spring vegetables, I want to eat as many as I can in one dish. Not that I don't love some of them on their own, but take the case of this orzo dish I whipped up. Orzo with one vegetable? Well that would be okay. Orzo with young spring garlic, fresh green asparagus and peas the color of emeralds, homegrown-on-the-windowsill thyme and a mild Gorgonzola to give it a touch of creaminess—this is the kind of dish I could snack on all spring long.
Not quite as creamy or dense as risotto and certainly not your typical pasta, orzo is the perfect canvas for the progression of spring vegetables we're beginning to see—and will continue to see as the season evolves—sprouting up in the aisles of our favorite food stores. This easy-to-make dish is easily adaptable (add mushrooms or artichokes or morels—whatever you fancy!), but here's the version I made one early spring night. Scrumptious indeed. Thank you, Spring.
Orzo with spring vegetables and gorgonzola

Ingredients
1 pound orzo
1 tablespoon olive oil
6 spring garlic bulbs (a.k.a. green garlic)
2 cups chicken stock
1 cup fresh peas, blanched and shocked
1 ½ cups asparagus, chopped into ¼ inch pieces
½ roasted red peppers, diced
4 ounces Gorgonzola cheese, crumbled
2 tablespoons red wine vinegar
½ cup crème fraîche
1 teaspoon chopped fresh thyme leaves
Salt and freshly ground black pepper, to taste
Make the dish
Bring a large pot of salted water to boil over medium-high heat. Add the pasta and cook until just tender, 8 to 12 minutes. Drain in a colander. Run cold water, and drain again. Set aside and cover.
Sauté garlic cloves in olive oil for about 5 minutes. Set aside. Bring 1 ½ cups of chicken stock to a boil in a large saucepan. Add the sautéed garlic and cook, uncovered for about 5 minutes. Add fresh asparagus and cook for another 5 minutes. Add the pasta, peas, roasted peppers, Gorgonzola and vinegar. Toss well. Stir in the crème fraîche, ½ cup chicken stock, and thyme. Season with salt and pepper, to taste. Serve desired amount into bowls.