Today's article is from professional organizer, Ashley Daly, of Arrange and Change.
Now where did I put the grater?
After an impromptu survey of some of the best cooks I know, (which didn't include me!) I've identified the top organizing issues for the kitchen. As with any space you're in everyday, the kitchen can get in complete disarray and it's easy to ignore with draws and cabinets to cover up the disorder.
But trust me, an organized kitchen will make you a more efficient cook and proud of the place that you call your studio. Please enjoy my solution to three, common kitchen organizing buggers:
• Limited cabinet space: Living in the city is an endless adventure, but one of the biggest downfalls is home space… you just don't have any. And the kitchen is no different, so how do you make the most out of cabinet space when you have everyday dishes, formal dishes, coffee cups, juice cups, etc? Invest in a couple cabinet shelving and bins gadgets that create additional space. They are usually wire, so sturdy enough to hold a stack of plates and come in different sizes. You can get the supplies that I feature in my pictures from the Wal-mart Web site.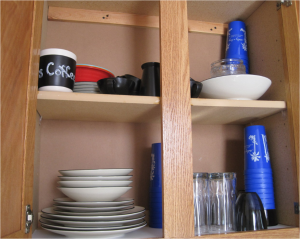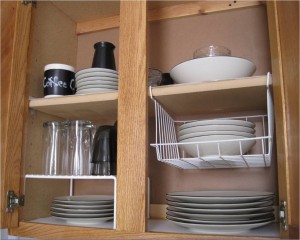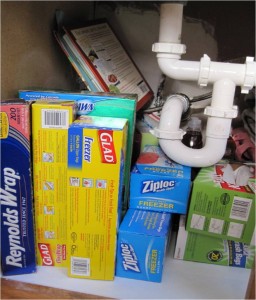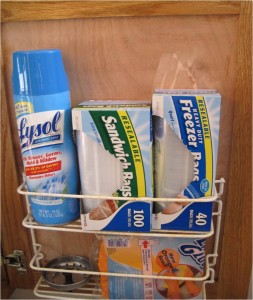 • Tupperware: It's one of the best inventions, rather you're storing pre-prepped ingredients or leftovers; but man, do those lids get either lost or everywhere. My suggestion for not only organizing your tupperware, but keeping it organized is to first, buy the same brand of tupperware and several of each size. This way some lids can be interchanged and you're not trying to stack 12 different shapes or sizes. Second, store the containers in a stack within each other and store the lids in a skinny basket or even a cereal box cut in half (you have to great creative here!).
• Counter Space: Another small space woe, never having enough prep or serving space. To make room for you to work your magic, first, remove everything from your countertops, yes everything. The coffee maker, the toaster, etc and see how much space that frees up. You may use the coffee maker everyday, so put the coffee maker in a cabinet that's conveniently located by a plug. Also resist over styling your kitchen with knickknacks that in the end cramp your cooking style.
Ashley Daly is the owner of Arrange and Change, a professional organizing business for busy professionals and families in Chicago. Visit Ashley's site, Arrange and Change, for more information.