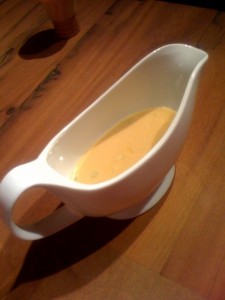 Normally Sundays mean eggs, pancakes, croissants and pots of tea to sip. But not last Sunday. I'd overindulged and was craving salad with one of my favorite dressings: miso. Fortunately I live near Hong Kong Supermarket where there are so many types of fermented soybean paste it's not easy to choose! And the ginger! I bought a large piece that looked like a lobster claw.
If you were like me and once upon a time didn't know how to make miso dressing, don't fret: it's really quite easy, and such a great dressing to have on hand. It's also tasty on steamed vegetables.
Ingredients
3 tablespoons miso, red or white (this soybean paste can be found at Asian supermarkets)
1 tablespoon Dijon mustard
1 tablespoon water
2 tablespoons fresh lemon juice
1/3 cup vegetable oil
1 teaspoon minced fresh ginger (peeled, of course)
1 scallion, minced
Make the dressing
In a bowl combine miso and mustard. Add water and lemon juice, whisking until mixed in. Add oil in a stream, whisking until emulsified. Lastly, add gingerroot and scallion.
Hong Kong Supermarket/157 Hester St at Elizabeth/212-966-4943